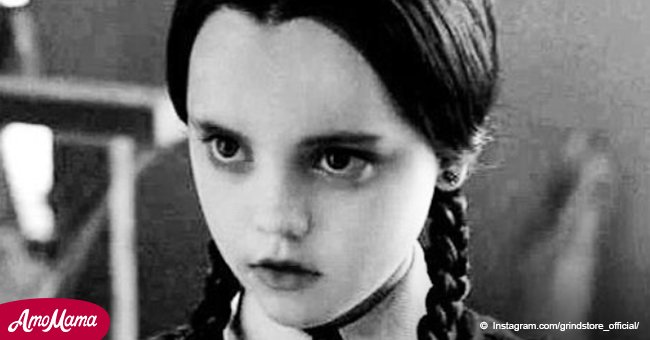 Remember the morbidly precocious Wednesday from 'The Adams Family'? Now she's 38 and beautiful
Christina Ricci was a child celebrity who was famous for a very peculiar role. Although since then she has had roles as successful as that, she is still very famous for her portrayal of the morbid Wednesday Addams.
'The Addams Family' is one of the most iconic films of the early 90's, known for its very spooky nature. The 1991 film directed by Barry Sonnenfeld was centered on the Addams family, and the patriarch Gomez and his long-lost brother Gordon.
Christina Ricci played the iconic role of Wednesday Addams, the young daughter of Gomez and Morticia Addams.
While Wednesday's look in the entire movie made her look intensely morbid, Christina knew then that she was never going to be cast as a pretty girl.
However, it was Christina's doe-eyed stare and pale complexion that made her perfect for the role she was cast in that made her an instant star.
Christina is the youngest of four children born in Santa Monica, California and later on raised in Montclair, New Jersey.
Ricci knew from an early age that she wanted to pursue acting as it was her passion, but her parents were always hesitant due to her mother's bad experiences as a teen model.
However, Christina braved the storms and insisted her parents let her try acting until her mother finally agreed and took her to her first auditions.
When she was eight years old, she was discovered by a critic for the Bergen Record who was in the audience of her school play 'The Twelve Days of Christmas'. The critic was completely impressed with the young actress' performance that he gave her outstanding reviews.
Since then, Ricci's acting career boomed and she laned her first acting gig in parody commercials for 'Saturday Night Live'.
Christina's excellent portrayal of Wednesday Addams for both the film adaptation of 'The Addams Family' and 'Addams Family Values' put her name on the spotlight, and she received great praise from film critics around the globe given her box office hits.
Since then, offers for Christina came in left and right. She gained her first lead role in 'Casper', which although was a hit in the box office, received mixed reviews from critics.
The young actress then proceeded to star in Now and Then', 'The Ice Storm', and 'Buffalo '66'.
According to Stanton Daily, like any child star, Christina was blinded by the spotlight.
"At that age, I had no idea who I was. So for people to be deciding who I was, was very strange. I felt very criticized and analyzed. The only thing I can think of was like somebody just twisting in the wind. Being a teenager and being that public, then having to answer questions about other people's opinions of you, was incredibly uncomfortable."
While Christina revealed that she felt attacked, it made her mature and wise beyond her years.
At 17, she gained a Golden Globe nomination after starring in 'The Opposite of Sex' in 1998. After a few years, she then earned her first Emmy Award nomination for her stellar performance on the hit TV series 'Grey's Anatomy'.
Despite starting her career at a very young age, Christina Ricci is lucky to have gone through everything and still be successful at 38. Now, she is focusing on more mature roles, those that people would never imagine her to have.
Please fill in your e-mail so we can share with you our top stories!