Uma Thurman is seen with her handsome 16-year-old son. The mother-son duo look exactly alike
Fresh from the release of her latest film, 'The Con is On', the busy actress attends a fashion event escorted by her handsome son who looks so much like her. 
Uma Thurman stood next to her son, Levon Thurman-Hawke, looking every inch his mother as they attended the Prada Resort fashion show in New York City.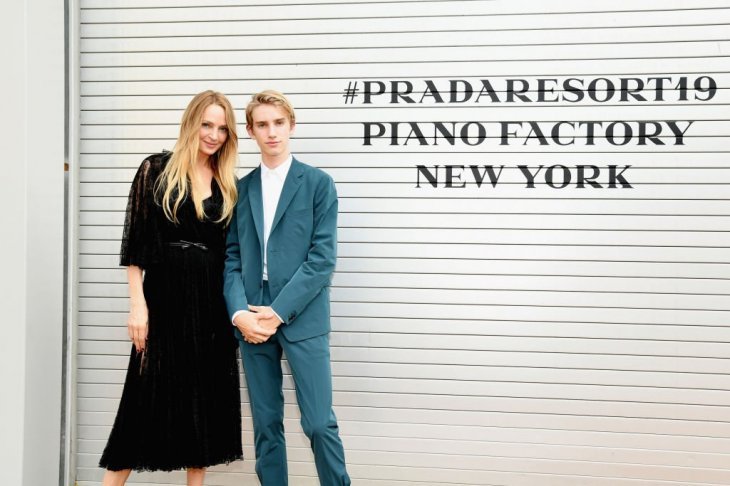 Both dressed to impress, the good looking duo projected the same genetic make-up as they showcased their fashion sense in the star-studded event featured by the Daily Mail. 
She recently admitted using most of her own clothes in her latest film, 'The Con is On', and the 48-year-old mother gave viewers a taste of her bold fashion sense as she stepped into the limelight in a black lace dress.  The Prada number looked stunning on the leggy star whose gorgeous gams were on full display as the black knee-length dress with floral lace overlay highlighted them. The dress's cropped pleated sleeves also gave it a romantic feel with its sheer material giving a glimpse of the actress' toned arms.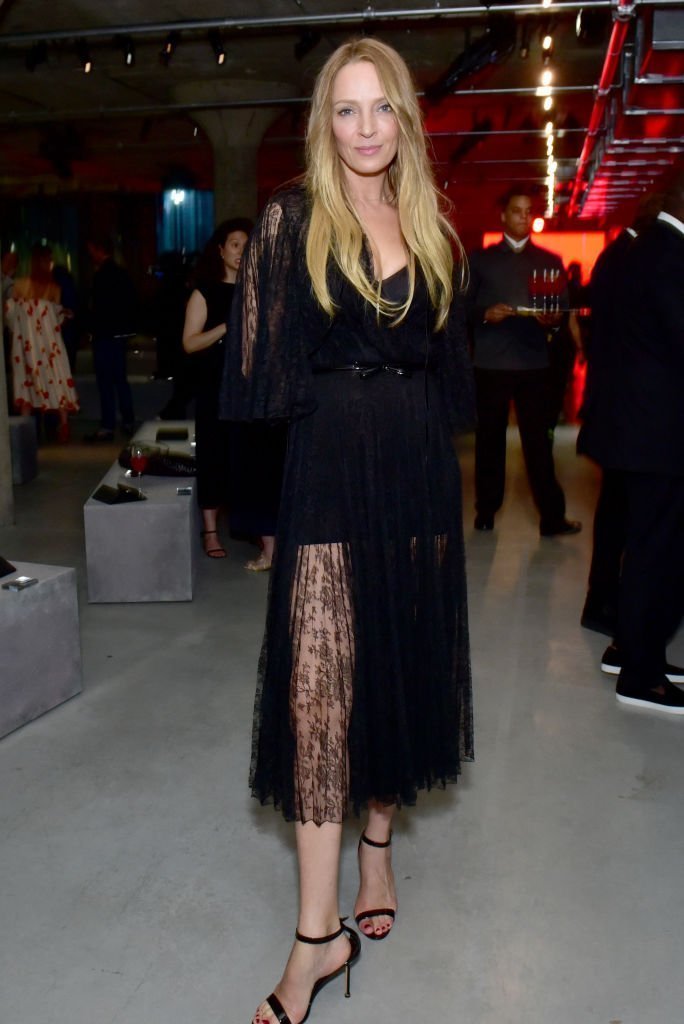 It appears Uma's 16-year-old son Levon may have acquired her taste in fashion too as he rocked a tailored aqua blue suit next to her.  He paired the bright colored ensemble with a white shirt underneath and neatly styled his hair which bore the exact same shade as his mother's. 
Levan is Uma's son with ex-husband Ethan Hawke.  The pair married in 1998 and finalized their divorce in 2005 after separating in 2003.  
Busy as ever, Uma just released her latest film, 'The Con is On' which she stars alongside Maggie Q, Sofia Vergara, Stephen Fry, Tim Roth, Alice Eve and Crispin Glover. 
In the film described as a "crime comedy caper", the Golden Globe winner plays hustler Harriett Fox who escapes to Los Angeles with her husband (Roth) in order to plot a jewelry theft that could ease them off their huge gambling debt they owe a merciless mobster. 
Describing her character to Vogue, Uma proudly revealed she enjoyed playing the ruthless woman. 
"For a female character, she's so completely unintimidated; and I'm sorry to say this, but it's kind of nice to see a female character be so ruthless."
"And not be the nice girl cowering in the corner, but the ruthless, cunning, sharp one. For me, it was a lot of fun to play such a naughty character." 
Uma also revealed she used most of her own clothes in the film, making it even more interesting to see her true fashion colors on display in the flick. 
Meanwhile, also worth catching on screen are her steamy love scenes with her co-star Maggie Q who plays Irina.  In one scene, Uma ditches her top as Maggie writhes on top of her in black underwear. It gets even racier as they showcase a steamy lesbian romp in another scene. 
Uma clearly continues to prove herself as an actress. She's been surprising her audience with the range of characters she can portray since her breakthrough role in the 1994 hit 'Pulp Fiction' where her star shot to great heights and now continues to soar as she reinvents herself every chance she gets.