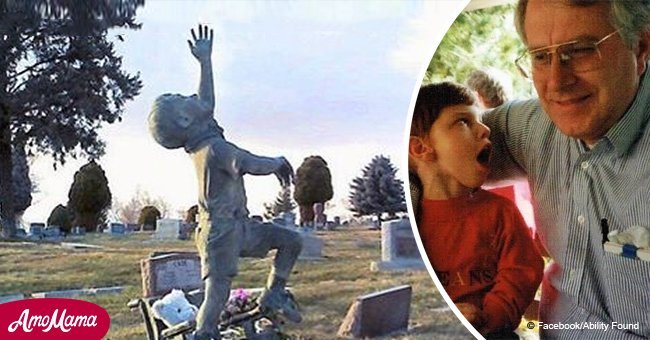 Dad turns 10-year-old son's gravesite into a magnificent tribute to honor his memory
After losing their child unexpectedly, the parents decided to celebrate his life in a manner that inspires the cemetery visitors even today.
Ernest and Anneke Robinson built a unique gravestone to mark the memory of their child, Matthew, who lived for 10 glorious years despite doctors' claim that his disabilities would not allow him to live for more than a few hours
Born on September 23, 1988, Matthew had severe disabilities and due to a lack of oxygen, he was blind and paralyzed below his neck.
The doctors even claimed that he would not survive more than a few hours, but he grew up to be 10-and-a-half years old.
According to Little Things, on February 21, 1999, Matthew died in his sleep due to lack of oxygen. So when the time came to lay him to rest, his parents decided should be something that could truly celebrate the hopeful 10 years that he lived.
In 2000, Ernest built a gravestone that had a simple and traditional inscription, but the top of the gravestone was given a spectacular sculpture of a boy rising up from his wheelchair and reaching up to the sky.
The boy is seen breaking the barriers of his "earthly burdens" and taking a leap of freedom toward the heavens. The breathtaking gravestone stands as a symbol of hope rather than sadness and loss.
The tombstone incites a sense of happiness rather than grief even among the visitors.
The obituary on Matthew's tomb includes an emotional message, which states, 'the spirits of those who are righteous are received into a state of happiness, which is called paradise, a state of rest, a state of peace...'
The hopeful message then concludes by saying that Matthew's spirit is freed from all the troubles and from all care and sorrow.
The gravestone incepted in the memory of Matthew now serves as a place of inspiration for the visitors coming to Salt Lake City Cemetery.
Please fill in your e-mail so we can share with you our top stories!