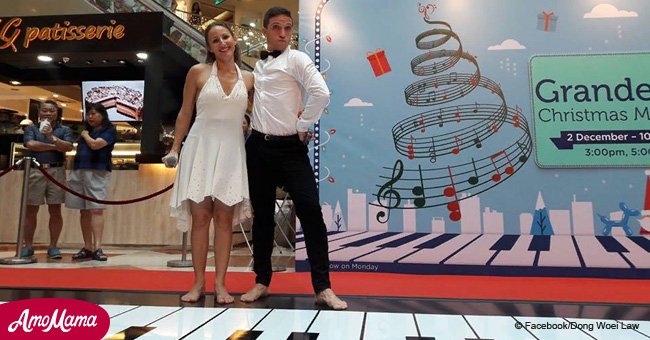 These musicians play a complicated song by dancing on a giant piano
Silvia Zotto and Leo Moreno wows audiences with their dance performances atop a giant piano.
They are members of the Italian performance group Il Grande Piano, as reported by Inspire More.
Silvia and Leo play famous melodies using only their feet instead of their hands. It is a unique performance that shows the pair's perfect coordination.
Manuel Benyacar, another member of the group, dreamt up the giant floor piano after he was inspired by the hit '80s movie, Big
In that movie, Tom Hanks and Robert Loggia play 'Chopsticks' at the FAO Schwarz toy store.
Il Grande Piano, which is based in Northern Italy, has been traveling around Italy, performing from outdoor plazas and arenas, to buildings as old as a cathedral built in the 1400s in Savigliano, Italy.
The giant piano is easy to transport, thanks to Manuel's brilliant design.
The gigantic keyboard is installed on the ground and played with feet. An innovative musical instrument, it combines music and dance.
Illuminated with high power LEDs, the white keys can follow a colored scale or simply stay white.
The instrument is big enough to hold several people to allow a combination of music, dancing and participation from the audience.
The unique musical dance show is comparable only to the Big Piano of FAO Schwarz in New York.
Audiences can also be completely involved in the musical dance show. Children and adults alike can learn some melody through an amusing musical walk.
The entertainers teaches the audience how to play melodies on the giant piano with the help of simple cards.
Videos of the group's performance have gone viral. The group has claimed that their videos have been viewed over 4 million times.
Among the melodies performed on the giant piano are Heart and Soul, Jingle Bells, La Pantera Rosa, Tu Scendi Dalle Stelle, and Giocando con Bach.
Please fill in your e-mail so we can share with you our top stories!