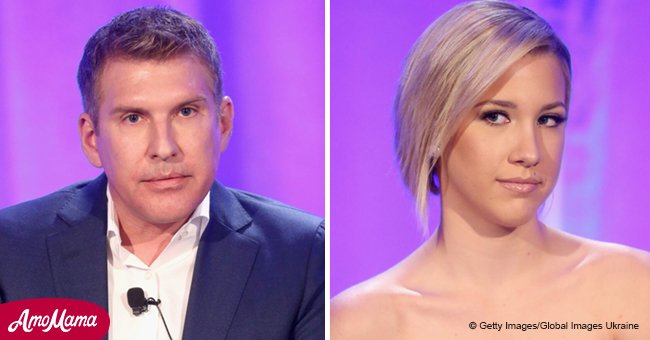 Todd Chrisley discloses his frank opinion on daughter Savannah's new boyfriend
The 49-year-old reality television star, real estate mogul and father-of-five, Todd Chrisley, is most famously known for his show, Chrisley Knows Best.
Todd doesn't shy away from speaking his mind, and during a recent interview with E! News, Todd admitted how he honestly feels about the new man in his 20-year-old daughter Savannah's life
While he wasn't fond of her ex-boyfriends, Chandler Parsons and Luke Kennard, her new beau Nic Kerdiles might just win the stern father's approval.
"I like him more than I do her at times now."
Todd Chrisley, E! News, May 8, 2018.
Savannah simply laughed and said "that's fine," before explaining that she is happy in her relationship. "For the first time, it's a relationship that I'm in where I don't have to worry about [it.]"
She describes their bond as a healthy connection and is grateful that she isn't the only party 'doing the work' this time around. She also trusts Kerdiles completely.
Even though her past relationships were less than ideal, Savannah admits that she could always rely on her father for support and advice.
Todd added that he is very protective of his daughter, saying that every dad is concerned about a 'young man's intentions.' Savannah concurred, adding that it's good to have her father on her side.
That said, she prefers not to discuss minor relationship issues with Todd, because he 'doesn't forget.' Todd agreed, saying that if someone hurts his daughter, he would not forget that transgression.
Savannah's younger brother Chase then chimed in and said he preferred not to discuss relationship problems with his father at all and joked that he'd wait until he was 35 years old to figure it out.
According to Chase, it's impossible to please his parents. For that reason, he would introduce his girlfriend once he knows that the relationship would weather the storm.
Fans can tune in every Wednesday at 10 p.m.for more frank confessions from the Chrisley household. The sixth season of Chrisley Knows Best premiered on May 8, 2018, on the USA Network.
Please fill in your e-mail so we can share with you our top stories!