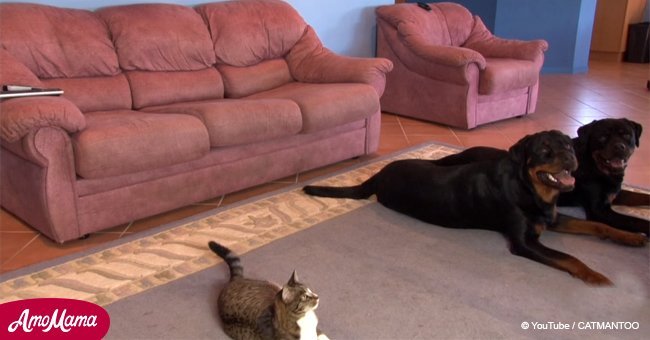 Cat outshines dogs when owner asks them to perform tricks
This cat is perhaps familiar with the term 'copy-cat.'
Everyone has seen a dog performing various tricks, however, Didga, an adorable kitty, is surprising everyone with some amazing skills up her sleeves.
There are a number of videos out there that show dogs doing pretty cool tricks. People can teach their dogs to do more than just fetch a ball.
Many people think that cats cannot do any tricks. They are all in for a shock after looking at Didga, who is out there to prove everyone wrong
In this video, the adorable kitty is seen following her master's orders just as the other two dogs next to her. When the owner asks them to roll over, the two dogs do it one after the other and the trick is quickly followed by Didga.
The owner may have spent hours training the car or she must have simply learned it while watching the dogs. Either way, the video could leave one in splits.
The video starts with two Rottweilers, Phoenix and Lucy, and Didga looking up to their owner for instructions.
When they are instructed to sit down, all the three follow the command. The man then instructs Phoenix to roll over who does as he is told. This is followed by Lucy rolling over too.
The little cat, who is wagging its tail all the while, does exactly as the dogs.
The video, which was uploaded to YouTube on February 4, 2015, went viral and has garnered over 17,000,000 views and more than 11,000 likes so far.
It is an incredible achievement for both Didga and her owner, Robert Dollwet, as cats are considered hard to train.
The amazing kitty holds the record for the Most Tricks Performed by a Cat in one Minute when she performed 20 tricks in Tweed Heads, New South Wales, Australia.
Please fill in your e-mail so we can share with you our top stories!