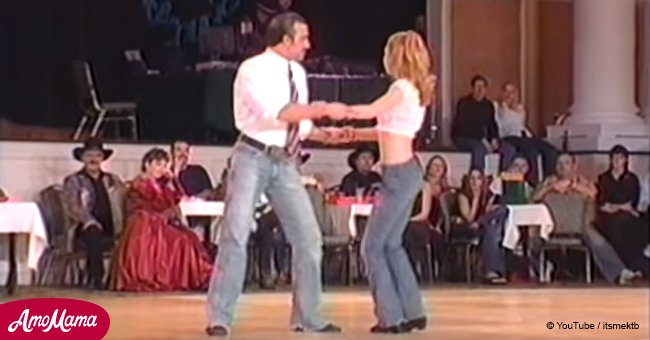 Couple dance to 'Honky Tonk Women' and their chemistry is absolute perfection
This pair wowed crowds all over for a long time, but even years after they last danced together people still enjoy watching the way they move.
Jason Colacino and Katie Boyle danced to a country version of the Rolling Stones' hit Honky Tonk Woman many years ago, but the footage has resurfaced again and is still fascinating people.
The video on YouTube has received close to two million views, with over 10,000 people liking it.
Colacino and Boyle had a great deal of chemistry between them in the way they moved, and the way they move together makes their complicated routine look almost easy, despite it being anything but.
The form of dance these two are showing off to perfection is called West Coast Swing, which originates from the Lindy Hop dance.
This type of dancing is characterized in the way the dancers' limbs seem almost elastic as they move, while still managing to stay connected to one's partner the whole time. Watching Colacino and Boyle, they certainly seem to move as one!
The pair have competed many times together and separately, and Colacino won the US Open Swing title as well as 3 World Cabaret titles.
Both Colacino and Boyle also seem to be having the time of their lives as they swing and spin around one another to an elated crowd, with smiles that never seem to waver on their faces.
Boyle comes from a classical ballet training, which is evident in her poise, posture, and the way that she spins around flawlessly at Colacino's lead.
Sadly, Colacino passed away a number of years ago, but even today he is remembered as one of the most gifted dancers.
Please fill in your e-mail so we can share with you our top stories!