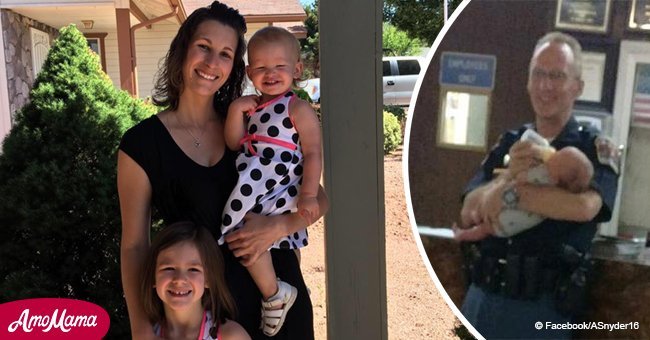 State Trooper goes above call of duty to help stranded family
A mother of three was stranded on a highway, and then someone unexpectedly stopped to help
An Alabama family was traveling on a busy interstate highway when their car broke down. Autumn and Sean Snyder were two hours away from home, and with their children - including a newborn - stuck in the car in the middle of no-where.
The Snyders called AAA and the local police, and before long an Alabama State Trooper drove up. Autumn thought he would be setting up signals and diverting traffic away from the car, but the Trooper surprised her.
He took Snyder and her three children to the closest rest stop, while Sean stayed with the car to wait for the tow truck.
Little Madeline is afraid of 'boogiemen' so the trooper checked the restroom to reassure her, and when baby Major started crying he fed him his bottle and even laughed when the baby soiled his diaper.
Later, the friendly trooper drove the family to the nearest hotel and helped them settle in for the night, even transporting their personal effects in his car.
The man then explained where the nearest car rental agency was located and told the Snyders to call him if they needed anything.
This Trooper's amazing attitude and his kindness were an eye opener for this family, who wrote about their experience and posted it on social media were they garnered thousands of likes and shares.
Please fill in your e-mail so we can share with you our top stories!