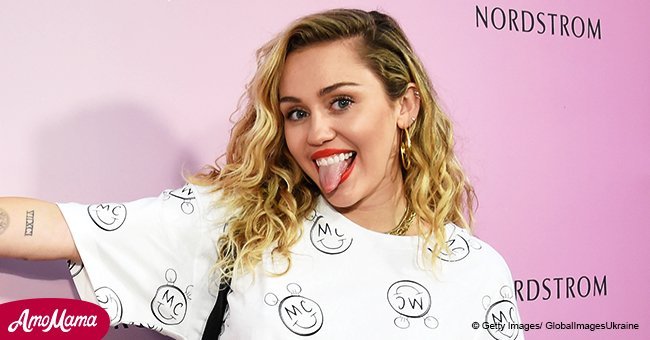 Miley Cyrus makes a daring choice as she goes braless in an incredibly low-cut backless gown

Miley Cyrus had a different take on this year's Met Gala theme 'Heavenly Bodies: Fashion and the Catholic Imagination'. While many celebrities opted to go for a heavenly look, Miley chose to focus on the other side of the dualistic spectrum by donning a 'sinful' black gown.
The 25-year-old has always been known for her eccentric yet glamorous outfits, after her transition from being a Disney teenage star to an edgy pop princess.
For this particular event, she chose to wear a custom satin gown made by Stella McCartney, which featured a plunging neckline, fishtail finish, and backless style.
Her dress did not only show off her numerous tattoos, but her gorgeous figure as well.
While this year's gala theme seems to be a given, the star made her dress a subtle statement of her conflicting emotions regarding the Catholic church.
Despite her all-black gown, she wore Gold accessories in different parts of her body to ensure she stuck to the theme. Gold crosses were worn on her ears, neck, and even lower hip.
While other stars chose to go for more obvious Catholic figures such as Jared Leto imitating Jesus and Rihanna dressing up as the Pope, Miley decided it was best to go for a more human take on the entire theme.
Her outfit chose to present herself as a normal Catholic struggling with vices, but still longing for salvation.
The glamorous Met gala is always tied to an exhibit found at the Costume Institute found in the museum itself.
According to Daily Mail, this year it aimed to examin 'fashion's ongoing engagement with the devotional practices and traditions of Catholicism'.
The exhibition showcased combined works of fashion and religious art, including 50 ecclesiastical masterworks on loan from the Sistine Chapel at the Vatican.
The items are available for viewing at the 'Anna Wintour Costume Center' galleries, which date from 18th to early 21st century and encompass more than 15 papacies.
Please fill in your e-mail so we can share with you our top stories!