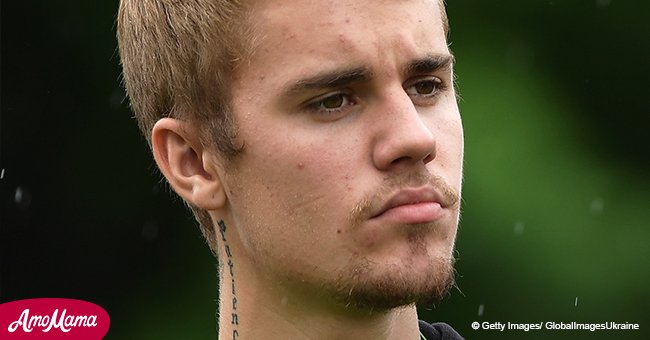 Justin Bieber looks handsome while showing off bad eating habits & heading to his blue Lamborghini
The international hitmaker was recently seen having junk food at Taco Bell despite trying to be healthy and being seen at the gym.
Justin Bieber dropped by the Tex-Mex chain in Van Nuys on Thursday. It looked like he was craving for fast food. AmoMama gathered more info from Daily Mail.
The Biebs went for a casual but still handsome look as he hurriedly stopped by Taco Bell. He donned a black long-sleeved shirt that had the words 'Friends of Sinners' written on the sleeves and across the chest.
The words are taken from the title of a new book from the Senior Pastor of Vous Church in Miami, Rich Wilkerson Jr. As fans know, Justin is a devoted Christian who has been hanging out with pastors and friends from his church.
The singer matched his shirt with a pair of blue baggy pants with the ends rolled up. He also wore a pair of red high-top Converse, which he left untied, clearly showing that he was in a rush. He had on a black baseball cap that he turned backward and finished his look with a pair of yellow lenses.
It seemed that he was in a hurry because he didn't want to cause a commotion or be recognized by the diners, which is what happened. If you're Justin Bieber, you will be recognized. But, he was able to avoid any kind of distraction to the fast food restaurant goers.
Looking happy as he carried bags filled with delicacies in each hand, he headed to his blue Lamborghini for his fast food fix. It was also apparent that the Grammy winner paid in cash.
More than a week ago, the Sorry singer's Aventador was painted in black spray with the words "cash only" at the gullwing driver's side door. Prior to that, he was also spotted wearing khakis that had the same phrase at the ankle hem. He was promoting the art of his friend, Joe Termini, whose existing art with "Cash Only" is under the name of Joe's One Hour Photo.
Please fill in your e-mail so we can share with you our top stories!