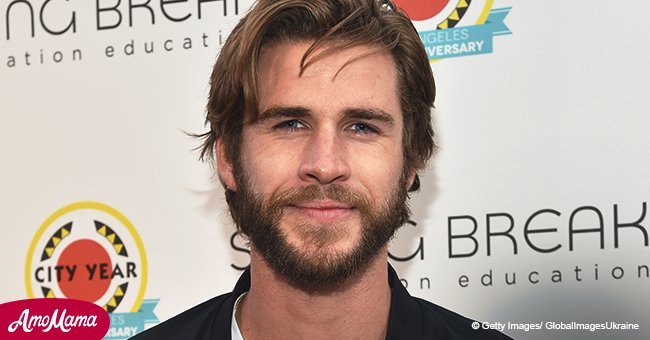 Liam Hemsworth, 28, looks breathtaking as he shares black & white photo acquiring his new tattoo
Actor Liam Hemsworth storms social media with an intriguing photo of himself.
AmoMama gives details of an interesting photo of actor Liam Hemsworth getting himself all tatted up to you, as gathered from an Instagram post.
Getting tattoos is a thing that's always done behind closed doors, with the finished design flaunted to the world afterward.
Well, this was the reverse case for actor Liam Hemsworth as he took to his Instagram to grace his fans with the opportunity of seeing him get a tattoo.
The 28-year-old boyfriend of Miley Cyrus shared a black and white photo of him getting tatted up on his right arms.
Liam was dressed casually in a white singlet and black pants as the tattoo artist who covered his nose with a black nose mask efficiently designed his arm.
The actor looked brave and relaxed as he didn't show any signs of discomfort or pain.
We guess Chris isn't the only strong one in the Hemsworth family.
In the next photo, Liam shared an up-close picture of the tattoo but did well not to give up the actual design as he made the image blurry.
He thanked the tattoo artist in the caption of the photo which read,
'Thank you @mr.k_tats, love your work man.'
Liam wasn't the only one loving the tattoo as the post garnered over 500,000 likes and several comments.
Luckily for fans, @mr.k_tats let the cat out of the bag as he shared a clear, detailed photo of the design he did on Liam's hand.
A beautiful dragonfly was drawn on Liam's arm, and fans didn't see that coming.
He also shared a photo of himself and Liam standing by the poolside and thanked him for his trust in him.
Mr.K is evidently a tattoo artist for the stars as a photo of him and Jonas brother Joe was seen on his page.
It's hard to tell the inspiration behind the dragonfly tattoo as Liam as always come off as a tough man, but hopefully one day he satisfies our curiosity and opens up about it.
Please fill in your e-mail so we can share with you our top stories!