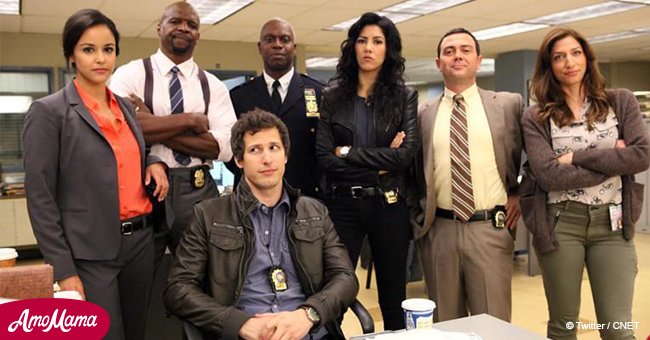 Fox cancels 'Brooklyn Nine-Nine'
The beloved TV show was canceled after only 5 seasons and fans weren't happy with Fox's decision, which made them take to Twitter to complain.
Brooklyn Nine-Nine premiered on September 17, 2013, and it was created by Dan Goor and Michael Schur. The series revolved around Jake Peralta, played by Andy Samberg, and his peers at a police station in Brooklyn.
The show returned from a month-long hiatus in April and, despite its success, Fox decided to pull the plug on the project, which led many fans, including celebrities, to defend the show on social media.
The season finale of Brooklyn Nine-Nine is set to premiere at the end of the month and, according to Dan Goor, fans won't be disappointed since it will be a fitting end for the show.
The episode will be titled 'Jake & Amy, and it will focus on Peralta and Amy Santiago's, played by Mellissa Fumero, wedding. The couple's relationship has been a major part of the storyline since season 1.
But the truth is that fans are already disappointed. Denizcan James, a Twitter user, expressed her hope of seeing the show being revived by another network or even Netflix.
Gome Dawg agreed with James' statement and added that she had never seen so many people upset over a television show being canceled. Still, as a fan, she understood why everyone was voicing their concerns.
Lin-Manuel Miranda, who has starred alongside Hugh Laurie in House M.D. and is currently working with Dyke Van Dyke in Mary Poppins Returns, asked Fox to renew Brooklyn Nine-Nine since it was one of the few shows that he watched.
Many other Twitter rallied against the end of the series, but, despite the outcome, Terry Crews, who played the role of Terry Jefford in the comedy piece, took the opportunity to thank everyone for their support.
Brooklyn Nine-Nine was the second-longest running live-action comedy in Fox's history after New Girl, but not even the 100% critics' rating on Rotten Tomatoes was able to save it.
Please fill in your e-mail so we can share with you our top stories!