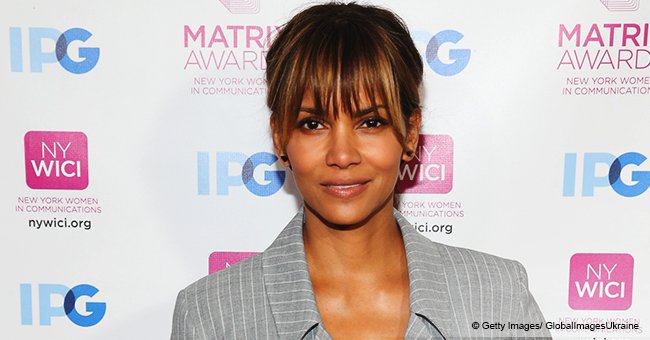 Halle Berry melts hearts as she shares adorable pic of her beautiful son and cute dog
- AmoMama just got to know from Instagram that actress Halle Berry recently posted a lovely picture of her son Maceo.
- The actress posted a picture of her tired son after walking their new adorable dog Jackson in the morning.
- This comes after the actress announced that her former dog Playdough died of brain cancer earlier this year.
These days, Halle Berry has made a name for herself by becoming the world's leading 'experts' on matters of fitness.
She is fifty years of age, but the Academy Award-winning actress regularly posts pictures of her fantastic body in different stages of undress.
She has also pioneered a new Fitness Fridays hashtag where she showcases her fitness and yoga routines to the world via Instagram.
This time around, however, the actress was not doing any of the above as she went for a picture that amazed fans with its sheer adorable quality.
Fans would remember that despite some failed marriages, Halle Berry has only two children.
Her first child and daughter Nahla Ariela Aubry was born in 2008 when she was dating French Canadian model Gabriel Aubry.
Her youngest child and first son Maceo Robert was born to the actress and Olivier Martinez in 2013.
Maceo will be turning five later this year, and he looked very adorable in a picture posted by his mother on her Instagram page.
The four-year-old looked spent as he leaned on a staircase after a hard morning of walking the family dog Jackson.
Halle Berry wrote alongside the adorable heart-melting picture of her son
'I think the dog walked him this morning #LivingLikeJackson'
It looks like Halle Berry and her children are already adapting nicely to the presence of a new dog in the house.
Earlier this year, the actress announced that her pet pooch Playdough was laid to rest after suffering from brain cancer.
The former Bond Girl paid a touching tribute to the canine that made it to sixteen years of age.
She shared a story of how her three-year-old son Maceo used to sit on the floor and eat his breakfast cereal alongside Playdough when he was eating his dog food.
The 'Extant' star took home Playdough in 2004 while she was filming 'Catwoman'.
Let us know in the comments below.
Please fill in your e-mail so we can share with you our top stories!