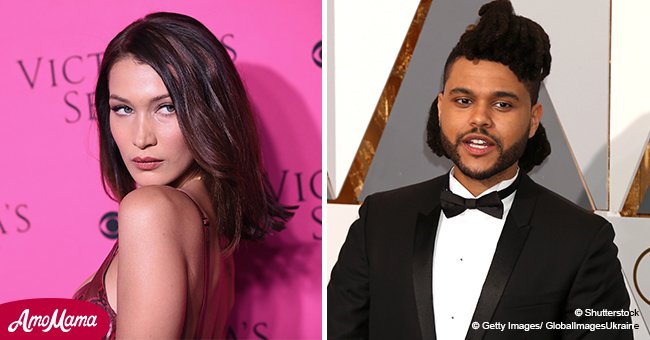 Bella Hadid and The Weeknd were caught sharing hot kiss after his split with famous singer
Bella Hadid and The Weeknd are back together if the video we are about to share is anything to go by. They were spotted at the Cannes festival smooching and being cozy with each other.
Bella Hadid, 21, and The Weeknd, 28, were spotted in on May 10 at the Cannes Festival looking cozy. As Hollywood Life reports, the two hugged it out and even kissed passionately at one point, getting their fans excited at the prospect of their being back together.
The two broke up several months ago when The Weeknd got back together with his ex, Selena Gomez. The move reportedly broke the supermodel's heart, but their little rendezvous proves they have moved past the previous breakup.
Bella and The Weeknd's public reunion took place at the glitzy Magnum x Alexander Wang bash. Partygoers took it upon themselves to capture the moments and post photos on Twitter. The sentiments were positive, with most fans excitedly hoping this time their love lasts. Amy Kaufman of the Los Angeles Times started it off by posting; "The Weeknd and Bella Hadid are in the middle of the room being super PDAish."
More sentiments followed: "I love them together, friends or whatever they are I love it." Another tweeted a photo of them talking very closely together and wrote, "Y'all better be sucking face." Another overjoyed fan wrote, "This literally made my day. I'm about to cry."
This cozy moment came only days after Hadid shot down rumors of she and her ex-making out at Coachella. It's also days after her sister, Gigi and Gomez were spotted embracing at the Met Gala in New York on May 7.
Speaking of Selena, an insider told HL she didn't take too kindly to the two lovebirds getting back together.
"She is sad things didn't work out between her and Abel and thinks he is a great guy, so she hopes he can find happiness. But she was completely shocked and can't believe they are back together after everything they have been through. Selena believed Abel when he told her he was completely over Bella and that they were totally done for good, so Selena can't believe they are back together and showing such PDA in France."
Are you excited to see these two back together?
Please fill in your e-mail so we can share with you our top stories!