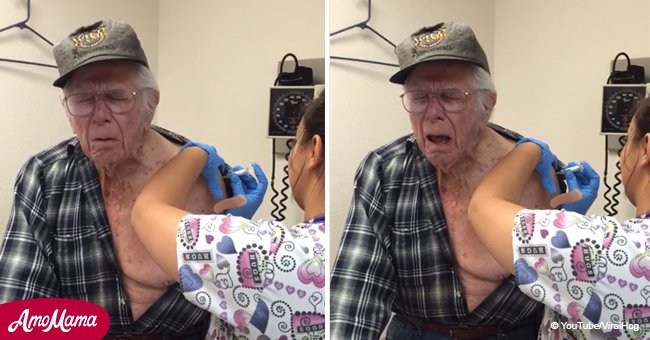 93-year-old grandpa tries to prank nurse but the joke was on him
A hilarious video involving a 93-year-old elderly man went viral.
The short YouTube video, running 36 seconds, shows a grandfather brought to the hospital for a flu shot on October 10, 2016.
When the nurse is about to give him an injection, he begins to get scared.
While giving a worrying expression just when the nurse pokes the needle in, he said, "I know it's gonna hurt."
The nurse then tells him that there's no blood.
After she sticks the bandage on the old man, she comforts him saying that the shot is completed.
"Did she stick that darn needle in me?" the man asks.
Though he seems clueless about the shot, the owner of the video explains to ViralHog that the grandfather is actually a joker "and loves to harass the nurses whenever possible."
"He was being his usual funny self on this day receiving his flu shot," the owner added.
Since it was posted on November 17, 2016, the video, which is titled 'Brave 93-Year-Old Getting His Flu Shot || ViralHog', has been viewed more than 160 thousand times.
Most YouTubers who have watched the video thought that the elderly man is cute and sweet. They're also proud of him for being brave.
'He's so awesome!I thought it was funny when he said did u Just stick a darn needle in me,you are all just kidding,he's such a sweet oldman!God Bless Him! ' commented Antonio Castor.
'I like the old guys like this, proud and brave. But my brave enough to admit when they're scared of somthing. I'm terrified of shots like this guy as well,' wrote Michael Gunn.
Another YouTuber opened up about needle phobia.
'Needle phobia is extremely serious. I would know because I have it. This man is incredibly brave and I am SO proud of him!!! ' Haille Ellyse explained.
Please fill in your e-mail so we can share with you our top stories!