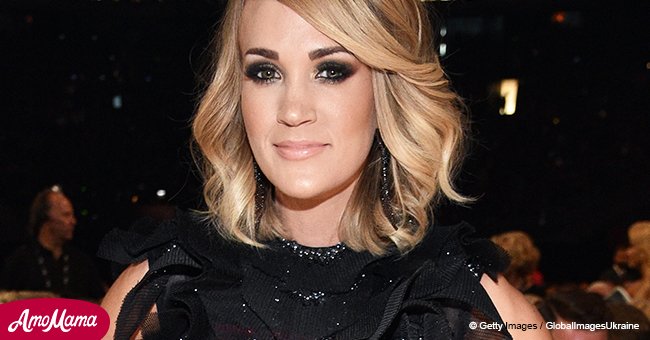 Carrie Underwood shares video of 3-year-old son shaving her husband
The country singer's husband has just retired from hockey following the play-off loss, and wanted to do a number on the facial hair.
Carrie Underwood's husband Mike Fisher had been growing his beard out, as is traditional during the National Hockey League play-offs for the players.
But as his team, Nashville Predators, dropped out of the competition after a 5-1 loss to Winnipeg Jets, it was time for Fisher to shave. Underwood took to Instagram to share a video of how the hockey player planned to rid himself of the beard.
Instead of shaving the beard off himself, Fisher had decided to allow the couple's 3-year-old son, Isaiah, the honors of shaving him.
Underwood simply captioned the footage: "Prediction: This won't end well..."
The clip has already received close to 2.5 million views, and over 300,000 likes.
In the video, Fisher can be seen trying to redirect his son's hands as Isaiah aims for his thick head of hair instead of his chin. The little one can be heard happily babbling away, as Underwood tries not to giggle in the background.
Fisher first retired in August 2017, but decided to come out of retirement for a short spell to help his team to another Stanley Cup. He made the announcement that he would return at the end of January 2018.
But he openly confessed that it would be short-lived, saying he would only see out the remainder of the season.
Fisher first started playing hockey professionally in 1999 when he joined the Ottawa Senators.
For her part, Underwood encouraged his return to the game, and shared the news via Twitter after he announced he would put his skates on again.
Please fill in your e-mail so we can share with you our top stories!