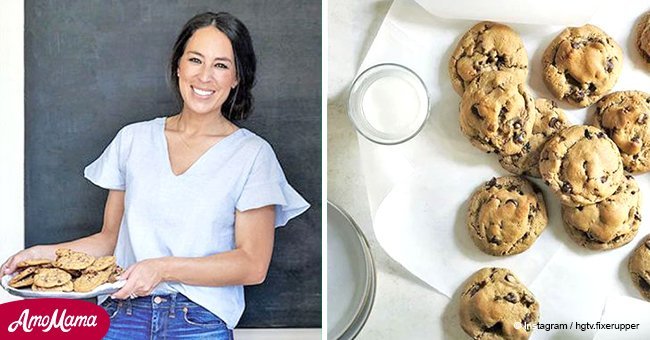 Joanna Gaines is known for her delicious home cookies. And the recipe is very simple
The television star revealed the secrets of preparing her delicious chocolate cookies in her cookbook.
The star of HGTV's Fixer Upper, Joanna Gaines, is famous for her delicious recipes which she shared by publishing her cookbook, Magnolia Table. One of such delicacies is her special home-cooked chocolate chip cookies, which boasts a super melty structure and flavor.
A video uploaded to YouTube by Delish revealed how these famous delicacies are prepared and it would surprise anyone to find out that they are actually super easy to prepare.
The video revealed that Gaines had to experiment a lot before coming with her own special recipe. Then she finally decided to cut back on the butter. Gaines' cookbook also advised that one can add up to half-cup more or fewer chocolate chips as per the mood.
To prepare, add salt and baking soda in a large bowl and mix it well. Then add butter, brown sugar, and eggs in another bowl. Stir them well until they form a paste-like substance.
This is followed by adding some vanilla and then some flour mixture into the mix. After some more mixing, now you can add the choco chips as per your taste and mood.
Now it's time to prepare biscuit like shapes from the mixture. They lay them out on a large tray. Then they must be baked for up to 10 minutes at 325 degrees.
Finally, you can now taste the delicious and chocolaty home-baked cookies prepared using the kitchen secrets revealed by Gaines' cookbook.
The video further revealed the cookies being tasted by several people. After tasting the cookies, most agreed that Gaines' recipe was different than what they had normally tasted.
One taster described the cookies as being "crispy on the edges, chewy on the inside," while others stated that ratio of the chocolate chips was just right.
Please fill in your e-mail so we can share with you our top stories!