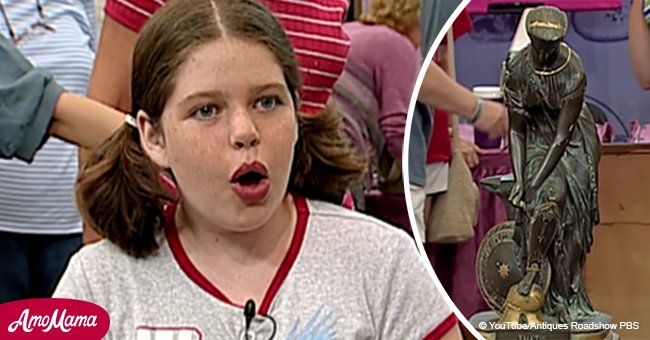 Girl stunned to learn the real value of her '$15 doorstop' at 'Antiques Roadshow'
A girl was shocked to learn that a "doorstop" was actually an expensive artifact.
When Antiques Roadshow arrived at Kansas City, a girl found out that a bronze statue bought by her family would earn them a lot of money.
The girl told appraiser Ernest DuMouchelle from DuMouchelles Gallery that the bronze statue was bought by her grandmother for about $15-$20.
"My grandma got it in Florida when she was visiting relatives. She got it either at a flea market or at a garage sale. That's where she gets almost everything," said the girl.
The reason her grandmother picked it up was that the girl, her sister, Portia, and her father liked Greek and Roman mythology.
The appraiser then asked if the family had tried to check the story behind the bronze statue. She revealed that they could not find any information.
There was a name on the piece of art. However, Émile Hébert, the name that appeared on the statue could be a writer.
DuMouchelle then goes on to explain that the name is quite misleading. The artist's name was Pierre Émile, a well-known artist of the Neoclassical times.
The connoisseur added that the statue was all bronze and it had the "gold doré inlays on it." The piece of art dated back to 1867, and it also had the foundry mark, GS, on it. It was a gold-medal winner at the Salon in Paris the same year.
He then revealed that the artist was well-known for that particular status and the piece would sell anywhere between $4,000 and $6,000 at an auction.
This piece of information was shocking for the little girl and she exclaimed, "That's a doorstop."
DuMouchelle had delivered a surprising news for the family and advised the girl to "put it up on a pedestal" now that she knows the value of the doorstop.
Please fill in your e-mail so we can share with you our top stories!