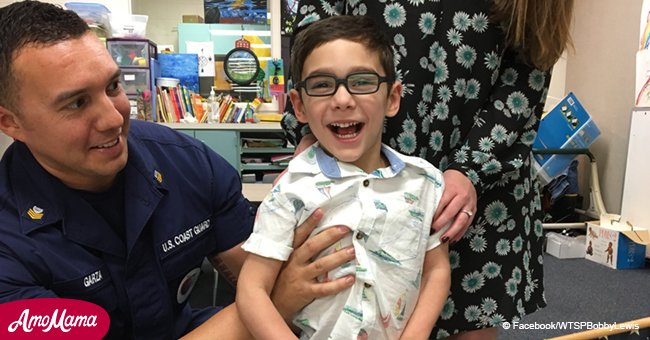 Boy with cerebral palsy brings father to tears with pledge of allegiance
While enjoying some family time, Jake Garza started to recite the Pledge of Allegiance, making his father cry.
In March 2018, Jake, who was born with cerebral palsy, was spending time with family in his hometown of St. Petersburg, Florida, when suddenly he began reciting the Pledge of Allegiance, as reported by Fox News.
The 5-year-old boy's father, Eric Garza, told Fox News: "It hit me right in the heart." The active duty member of the U.S. Coast Guard even cried during that time.
The 32-year-old father said that he had no idea Jake was able to recite the pledge because "he was showing some [speech] progress but could only say words like 'yes' and 'no.'"
Jake attended Pre-K at Sexton Elementary School, where he first learned the Pledge of Allegiance.
Eric was very thankful to both the teachers and his son's personal aide at the school.
Taylor Garza, Eric's wife and Jake's stepmother, was also emotional when Jake recited the pledge.
"It is all just extremely emotional for me -- it just caught us both so off guard," Taylor told Fox News.
She said that they were playing music and singing songs when Jake began speaking something familiar to them.
"I looked at my husband and said, 'Hurry, get your camera and record this,'" she added.
Taylor also cried when she saw Jake "hit such a big milestone." She said that seeing Jake get out the whole pledge was astonishing.
When Jake's mother died from Cancer, Taylor helped Eric in raising him.
Eric told Fox News that Jake now recites the pledge on cue and can also speak in full sentences.
"He's the happiest, smiley little kid you'd ever meet. That kid is the future -- he's gonna do big things," he said. "He's amazing."
According to the Cerebral Palsy Foundation, reciting the pledge was a big accomplishment for Jake since he was born prematurely and diagnosed with cerebral palsy.
Please fill in your e-mail so we can share with you our top stories!