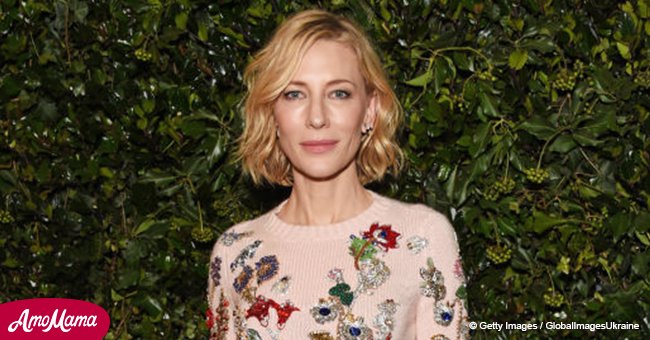 Cate Blanchett wows in dramatic optical illusion ruffled gown which disappeared into the carpet
The premiere of Spike Lee's BlacKkKlansma made headlines for the number of A-listers it attracted and the fashion display that made it look more like a fashion show that a film screening. See Cate Blanchett gown below to understand why it confused onlookers.
Most celebrities marked the Cannes Film Festival with bold fashion statements and Cate Blanchett was one of them. The actress, 49, made each red carpet appearance a memorable one with stylish gowns and her youthful looks. At the Palais des Festivals that took place on Monday night, Blanchett wowed in a multi-colored ruffled full-length Givenchy tiered gown which disappeared into the carpet. Blanchett was not only an attendee but also a jury during this year's event.
The gown was not only colorful but also bare-backed, which made it even more dramatic. The Oscar winner's trademark bob was neatly drawn back to draw attention to her face. As she walked the red carpet on a rainy evening, the actress lifted her skirt to avoid getting it all wet at the French Rivieria, and in the process revealed a pair of silver platform heels.
The film BlacKkKlansman, a comedic crime story from director Spike Lee, was the main event at the festival on Monday. It is centered on an African-American police officer from Colorado who successfully manages to infiltrate the local Ku Klux Klan to become the head of its local chapter.
Lee, who was snubbed for the Palme d'Or in 1989 for Do the Right Thing had everything working in his favor this year. The film's producer, Jordan Peele, told the Hollywood Reporter that the plot covered things happening in every part of the world.
"Everyone's like, 'Oh, it's got KKK in the title. Is it just an American subject?' But the reality is, that's not what the movie is. The movie is about this sort of undercover operation. And the topic that it is addressing is happening everywhere in the world right now where you've got these far-right groups and agendas. I think a lot of people are going to look at that and say, 'This is relatable in the modern day and relatable to a lot of places in the world.'"
The Festival de Cannes, which ends on May 19 is the most important film festival in the world in terms of impact. Talk to us in comments.
Please fill in your e-mail so we can share with you our top stories!