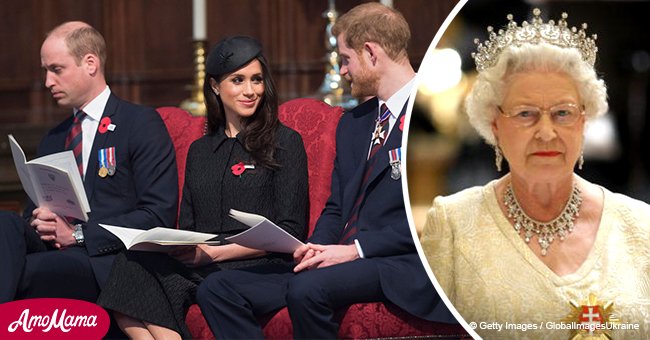 The real reason why the Queen didn't called Meghan 'well-beloved' like Kate
People noticed a big difference between the Instrument of Consent that Meghan Markle got and the one that Duchess Kate received. The Queen called Kate in an endearing manner which she didn't use for Markle.
Daily Mail has responded with the real reason for this difference. It seems that it has nothing to do with the Queen snubbing Markle, but more to do with protocol.
The Instrument of Consent is the document that was signed by the Queen giving her consent for Prince Harry to marry Meghan Markle. It was officially unveiled on Saturday night.
However, there was a difference in the document than compared to the one for Kate and Prince William. In the document, the Queen calls Harry her 'most grandson dearly beloved' and Markle didn't get an endearment.
In 2011, Kate's document described her as 'our trusty and well-beloved'. Markle will marry Harry at St George's Chapel at Windsor Castle on Saturday.
A spokesperson for Buckingham Palace told Femail that the term was only used for UK citizens. Since Markle is American the endearment was not used.
The Queen signed the Instrument of Consent in March 2018. The document is an elaborate notice of approval, transcribed in calligraphy, and issued under the Great Seal of the Realm.
'Our understanding is that "trusty and well-beloved" is customarily used for citizens of the UK and Commonwealth Realms, this is why she was not referred to by this term.'
It's been reported that the Queen was likely to share a more personal letter once the pair is married. Etiquette expert William Hanson told Femail 'It's not a snub towards Meghan Markle and people shouldn't read into this. It's simply the fact that she isn't British.'
He added that if her citizenship application had been accepted already then that phrase would have been included. Hanson elaborated that it was an ancient form of protocol which followed precedent.
He shared that he didn't think Markle was stressing over the wording. The former actress had met Queen Elizabeth II for afternoon tea at Buckingham Palace in October 2017.
During her engagement interview with Harry, she shared that meeting the Queen through Harry's lens had been important to her. She stated that she saw the Queen with the love that Harry had for her as his grandmother.
'When I met her I had such a deep understanding and incredible respect for being able to have that time with her. She's an incredible woman,' Markle shared.
Please fill in your e-mail so we can share with you our top stories!