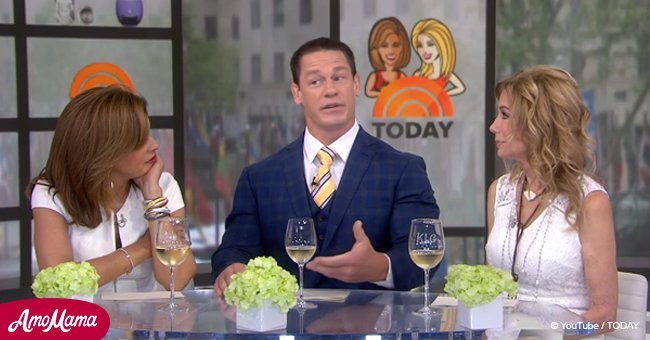 John Cena makes dramatic plea to ex-girlfriend during 'Today' show

The 41-year-old wrestler and actor, John Cena, proposed to fellow wrestler Nikki Bella at the 33rd WrestleMania event after five years of dating.
The couple had planned to exchange vows on the 5th of May this year but ended their relationship less than a month before their wedding date.
Cena sat down with Hoda Kotb and Kathie Lee Gifford of The Today Show to give an update on what is happening in his life and how he feels about Nikki.
He admitted candidly that 'it's up and it's down,' but added that he is trying to evaluate his life 'and the woman that I love' despite the broken heart.
"I still love Nicole. I still would love to marry Nicole. I still would love to have a family with Nicole. There was an unfortunate set of circumstances where our relationship ended."
John Cena, The Today Show, May 14, 2018.
Cena would like to clear up the misconception that he is 'enjoying the single life' after the breakup. He explains that he was supposed to be on his honeymoon now.
Instead, he is alone at his home, 'surrounded by these emotionally strong memories. As a means to cope, he leaves his house from six to nine every day to 'talk to strangers.'
The social interaction helps him maintain focus, but he isn't using the time to meet a new partner. He still wants to be with Nicole.
He clings to the hope that they would reconnect at some point in the future. Cena admits that he isn't the stubborn and selfish man he was five years ago. Nikki brought the best out in him.
Cena didn't 'want to give too much away,' but hinted that his reluctance to start a family and become a father might have been at the root of their breakup. He is willing 'to make it work' now.
As reported by People, Nikki moved in with her sister after the breakup. She had chosen to stay out of the spotlight for a while but will return in season 3 of Total Bellas.
Fans of Cena can look forward to his upcoming appearance as Agent Burns in Bumblebee. The film is currently in post-production and will be released later this year.
Please fill in your e-mail so we can share with you our top stories!