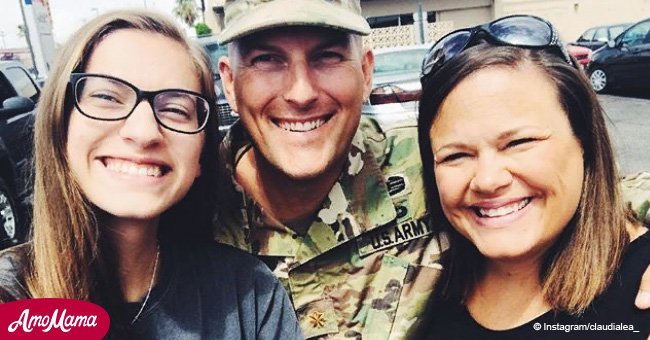 Soldier dad surprised his daughter at her graduation with surprise homecoming
Claudia Lea had no idea that her father was going to show up during her graduation day. Her reaction when she was her dad was priceless.
Marshall University recently held its commencement exercises for the graduates of 2018. Included in the roster of graduates was Claudia.
She was about to get her diploma as a graduate with a degree in communication disorders.
Prior to the day of her graduation, Claudia had already expected that her father, Major Brett Lea, wouldn't be able to come as he was deployed in Germany serving for the U.S. military.
During the graduation ceremony, the presenter announced that Major Lea had a video message for her daughter.
Everyone inside the auditorium was focused on the screen, just then, Major Lea emerged from the side bleachers and surprised his daughter.
A
video
posted on Instagram by the school's official account showed Claudia's dad hiding behind the bleachers as he waited for his cue. He looked at the camera and gestured a hush sign right before walking towards the center of the auditorium.
The moment Claudia laid eyes on her father, she gasped. She couldn't believe that her father came home for her most special day.
Major Lea hurriedly walked towards Claudia's seat. Claudia stood up to meet her father halfway.
The moment they were near one another, Major Lea wrapped his arms around her daughter.
Everyone in the crowd stood up and cheered the father and daughter.
Claudia wasn't able to hold her tears and hugged her father once again. Major Lea looked at his daughter with pride.
The school was happy to participate with Major Lea's surprise since he is also an alumnus of the university.
This year, Marshall University had over 1,700 graduates on their list.
Please fill in your e-mail so we can share with you our top stories!