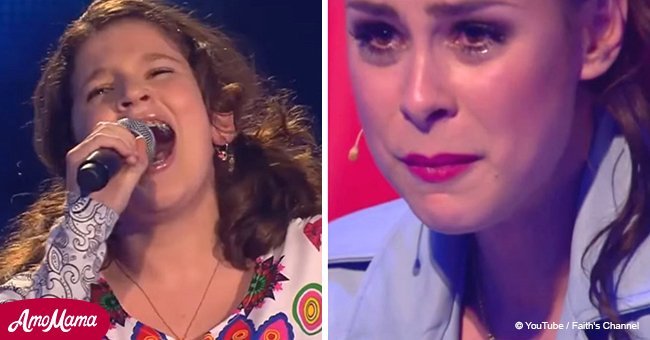 Judge turns her chair, hearing a girl's voice in a blind audition. But then she starts weeping
Judges received an unexpected surprise when a teenage girl performed a challenging song to woo them.
For years, the singing reality show, The Voice, has enthralled the judges as well as the audiences alike with the unbelievable singing talents who grace the stage.
During an episode uploaded on YouTube last year, one of the contestants, Solomia, displayed a similar surprisingly beautiful performance, bringing one of the judges down to tears.
The video showed a nervous-looking girl waiting for the music to begin while the judges are waiting anxiously to hear the next voice in the blind auditions round of the reality show.
Soon, the beat to the song Time to Say Goodbye by Andrea Bocelli begins to play, and there is a sense of excitement among the judges. Their expressions suggest that they can feel something extraordinary was about to unfold on stage.
Before Solomia has completed even the first line of the song, judge Lena Meyer-Landrut presses the buzzer without wasting any more moment. Closely following her, one more judge presses the buzzer and shows his appreciation for Solomia's voice.
Meyer-Landrut is so much moved by Solomia's voice that she cannot hold back her tears. The judge tries to control her emotions as much as possible but she ultimately fails to even look at the young singer.
But Solomia is only getting started with the song as she soon hits an even more challenging note and takes the performance to the next level altogether. The third judge then finally hits his buzzer and spins his seat around.
As the entire audience present on the set is captivated by the powerful voice of the teenager, her family backstage is equally excited by the reaction Solomia gathered from the crowd through her voice.
Please fill in your e-mail so we can share with you our top stories!