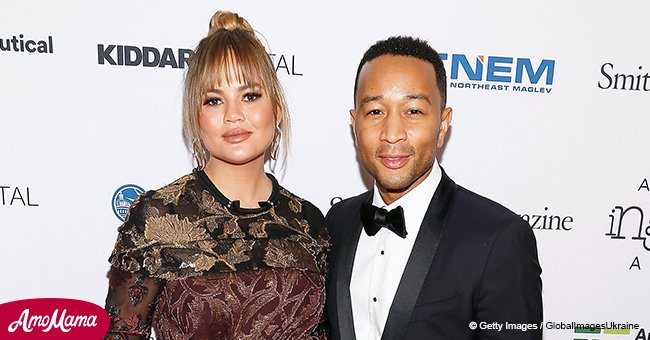 John Legend's wife Chrissy gives birth
Chrissy Teigen has given birth to her second child with husband, John Legend. The star shared the news with a simple post on Twitter.
The Twitter post didn't reveal much about the baby but it is now known that they had a baby boy. Teigen first announced their pregnancy last year in November.
John Legend and Teigen's daughter, Luna Simone Stephens, 2, is now an older sister. The supermodel first announced her pregnancy last year with a video of Luna pointing to her stomach and yelling, "Baby!"
In January 2018, Legend explained at a red carpet event that their toddler didn't quite understand what it meant to become a big sister. The musician shared that the little toddler knew that there was a baby in her mother's stomach but that was it.
Legend and his wife were prepared to grow their family. Last year they chose to undergo a frozen embryo transfer in hopes of becoming pregnant again.
They started off the process with 20 embryos. Only 3 of them were declared normal after being genetically tested.
The sexes were also revealed as part of the testing. "The first little girl didn't work, and then the second is Luna," Teigen shared with InStyle at the time.
The couple was then left with one male embryo. In 2016, after giving birth to their first child, Teigen suffered from postpartum depression.
A few months ago, the star shared that she feared that the depression would return with her recent pregnancy. However, Teigen stated that now she was better equipped with the tools to tackle it head-on.
The television host also added that she had a group of people who would help her get through it this time around. The group of people she was referring to was also the ones who threw her a surprise baby shower in April 2018.
They included Kris Jenner who opened up her home for the event. Other's in Teigen circle and who also attended was Kim Kardashian, Kanye West, Brooklyn Decker, Andy Roddick, Jesse Tyler Ferguson and more.
Teigen took to Instagram to share about the surprise event. She confessed that she's actually against having baby showers for herself.
The star explained that opening gifts in front of people made her want to die. Receiving gifts also made her very uncomfortable because she already felt immensely blessed.
Another reason for her dislike of baby showers was that she hated writing thank you cards with what she called 'my poor penmanship.' She acknowledged being tricked into it by her friends and thanked them for knowing her.
Please fill in your e-mail so we can share with you our top stories!