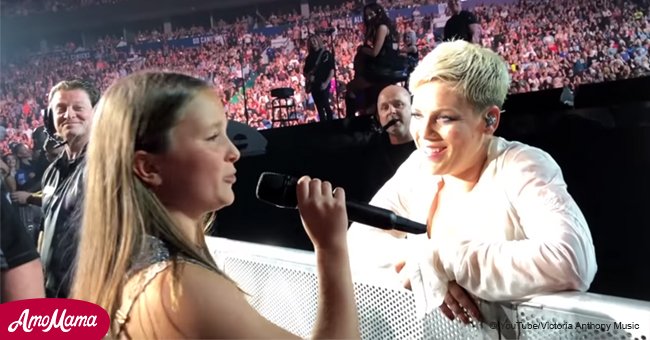 Pink called a girl to the stage and the crowd went wild
The 12-year-old was hopeful that her campaign would catch the attention of the singer ahead of her concert so that she could meet her idol.
Victoria Anthony has always loved Pink, and when the pop artist was scheduled to appear at Rogers Arena in Vancouver she started reaching out to the star on social media asking to let her sing.
As reported by CTV News, Anthony had been encouraged by her mother to start the campaign, which started with her posting to Twitter with her request.
"Hey @Pink , please let me sing on stage with you in #Vancouver May 12. I'll be ready! - Victoria (age 12) Share this video and tag #vicandpink to make my dream come true," she wrote.
She also made use of YouTube to showcase her voice, linking the video into her tweet. Anthony created the hashtag "vicandpink" as part of her campaign.
Even Canadanian singer-songwriter Sarah McLachlan picked up the video and tweeted the star to encourage her to honor Anthony's request.
And on Saturday May 12, Anthony's dream came true. In the middle of her Vancouver show, Pink called out for the excited young girl in the audience to come forward to the stage.
"Are you who I read about on the news?" Pink asked when she made her way down to the stage. "Do you want to come sing something?"
As Anthony reached the stage, Pink handed her the microphone and she just started to sing. From the very first bar of Pink's Perfect, the audience was cheering for her.
If the preteen was nervous about singing in front of thousands of strangers as well as her idol, it certainly didn't come through in her voice at all.
Her mother, Christina Anthony, confessed to being emotional watching her daughter belt out the hit right in front of Pink herself.
Anthony plays both the piano and the guitar, and even writes her own music. She hopes that a career in the industry might be an option for her one day.
Please fill in your e-mail so we can share with you our top stories!