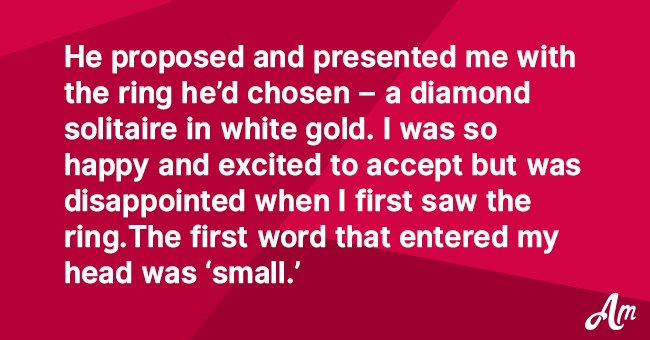 Furious woman slams her fiancé for proposing with a 'small' ring
The moment when the person you love drops to one knee and asks you the ultimate question should be a triumph.
In the good old days, a proposal involved a man buying a ring and surprising his lady friend by getting down on one knee to ask her to take his hand in marriage. Of course, proposals are becoming more and more elaborate as time goes on.
With or without the bells and whistles, it is an occasion that should be marked by happiness and excitement to begin the next chapter. When it comes to diamonds, the world is not perfect, and sometimes the diamond isn't exactly what the bride-to-be has in mind.
According to American Web Media, one woman shared her disappointment about her "small" engagement ring online in hopes of garnering some sympathy and advice. However, her cry for help left some people outraged.
As well as disliking the color of the gold band and the setting, the anonymous woman couldn't understand why her normally generous partner, who earns close to a six-figure salary, didn't spend more on such an important piece of jewelry.
"His salary is nearing a 6 figure sum and he's usually very generous. Having seen the receipt I know he paid £1,300 for it, which is a lot less than I would have imagined he would have spent on such a significant piece of jewelry." She explained.
The responses to this woman's dilemma were a little bit less than sympathetic. Far from adhering to the old 'three times salary' rule, most of the commenters seem to think that £1,300 on an engagement ring is absolutely fine.
Some of the people on the thread have been a little more understanding, claiming that while it's pretty bratty to get annoyed about the cost, it's okay to be fussy about the design.
But others, however, were quick to offer their support, understanding why she would expect her high-earning fiancé to splash out a little more on such a significant ring.
The woman explained how in an ideal scenario, she and her fiancé would have chosen a ring together, so as to avoid a situation like this. That takes away the element of surprise, but it is definitely a safe move.
Please fill in your e-mail so we can share with you our top stories!