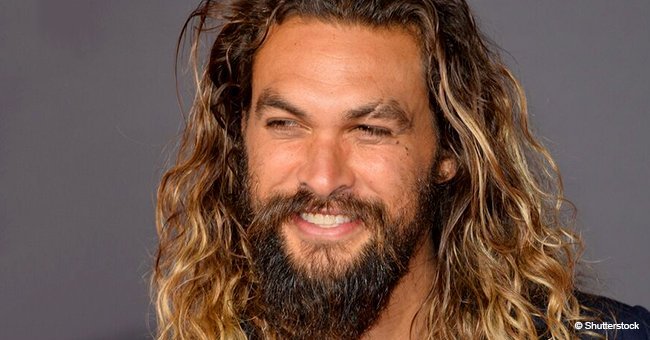 Lisa Bonet's husband shares photo with mom who bears a strong resemblance to him (video)
Celebritist learned from Instagram that Jason Momoa and his mom recently shared a selfie together on Instagram, and the celebrity actor was very happy to post it on Instagram. Both Mother and son looked unimaginably alike in the picture, and you could tell how much Jason's mom loves him from the picture. Did you know that Jason Momoa starred in a movie titled 'Justice League' and in a series titled 'Game of Thrones', also did you know he played Kratos in the video game 'God of war'?
Lisa Bonet's husband known as Jason Momoa took a picture with his beautiful mom known as CONI Momoa, and they looked very much alike.
Mother and Son seemed to love spending time with each other, and you could tell from the picture how much love was in the air
They are an example of mutual love and respect between mother and son!
Did you know that Momoa was the badass in past? But now he is a caring father and family man!
Watch this video to see this stunning transformation!
The picture made so many jaws drop, and it attracted various comments from fans who could not believe just how beautiful his mom was and how much they looked alike.
Jason Momoa shared the picture of his mom to celebrate mother's day in the United States of America, and his captioned showed how much he appreciated his mom.
They seemed to have so much fun together as they spent time together on a mother and son date.
Jason Momoa, however, shared a picture of his mom and his dad known as, Joseph Momoa, who joined in the celebration of mother's day also.
There were about 322k likes on the pictures and so many comments trooped in from friends, families, and fans.
Comments like;
@myah.sue.kay said;
'Thank you, ma'am, for creating such a beautiful human being'
@tabby_dent said;
'Jason's Mama: thank you to the moon and back! What a beautiful, spiritual, PERFECT man you raised'.
According to the comments shared by so many people on Jason's post, it seemed like everyone loved Coni, and even loved Jason more.
We are sure you know by now that Jason Momoa was the same man in 'Justice League' as Aquaman and 'Game Of Thrones' as Khal Drogo.
He recently revealed that he would play the character Kratos from 'God Of War' in a video game.
Although Jason starred in 'Game Of Thrones' for one season, he was some of the unforgettable cast in the series.
In an interview, just after his part in 'Game Of Thrones ended,' he was asked if he would want to play the character Kratos, and you could guess what his answer was.
Yes!
What do you think of the striking resemblance between Jason Momoa and his mom Coni Momoa, as he celebrated her on 'Mother's day'?
Tell us in the comment section below.
Source: Instagram
Please fill in your e-mail so we can share with you our top stories!