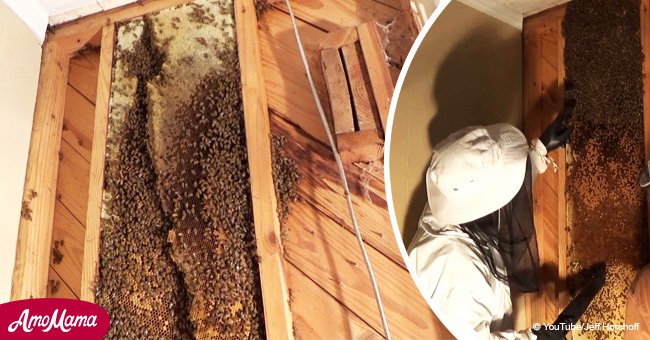 Homeowner found giant beehive inside his living room wall
The homeowner was hearing unusual sounds behind his wall. But it's worse than he thought when the beekeeper took the wall down.
The YouTube video published by Jeff Horchoff on April 30, 2017, shows Mr. Ed, a beekeeper, teaming up with professional demolitionists as bees can possibly get into the strangest of places.
Mr. Ed immediately responded to a call from a man, who had bees in his living room wall.
Together with the professional demolitionists, Mr. Ed arrived to check it out for a wall removal.
Then they discovered a huge hive spanning over 5 feet in width and 16 inches wide.
"It had 3 full layers of comb, and at least 30,000 bees. We had 3 guys with the name of Steve working on this job as well as Wreck it Ralph, and myself," Mr. Ed explained.
He added: "It went as smooth as silk, and on top of that, Rocket Scientist Steve spotted the queen. It was a really good day."
Since it was shared on YouTube, the video which is titled 'You are kidding me? In my living room wall?' has already been viewed more than 2.5 million times.
'Glad that you saved the bees, but if I opened up my wall and found that I think I'd have a panic attack and die or something,' YouTuber tftm commented.
Ethan B added: 'Holy cow that's insane!! I couldn't do it....I wouldn't even stand near that nest with one of those suits on. I've chased tornadoes and I think you guys have more guts than I do Lol. '
Oriana Garrido shared that he had an infestation of bees in a space between his closet, the chimney and the roof and that it wasn't funny at all.
'This made me itch because I have Trypophobia but I still managed to watch the whole video anyway,' wrote NeverLastingLove.
Please fill in your e-mail so we can share with you our top stories!