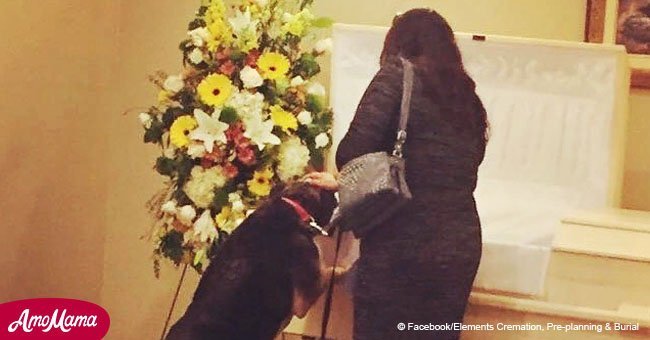 Funeral home allowed dog to say final goodbye to deceased owner
Sadie was unable to cope with losing her owner. On the day of his funeral, the funeral homes allowed the dog to say her final goodbye to her beloved best friend.
Jeremy May, the president of Elements Cremation, Pre-planning & Burial, shared Sadie's story, who grieved with the family after her owner passed away due to a heart attack.
Sadie had been in the family for 13 years. She witnessed as her owner passed away after suffering an unfortunate fate and refused to leave his side even after the paramedics arrived.
The man's wife and family were heartbroken, including Sadie. Ten days had passed and it became clear to the family that Sadie was unable to deal with the grief.
She would not eat and sleep properly and she spent most of her time by the window or the door waiting for her owner to come back home.
Then, on the day of the man's funeral, the wife decided to bring the dog along. Even though May knew that animals were usually not allowed at funeral homes, he saw how Sadie need to mourn as well.
Sadie, together with the wife, said her final goodbye to her owner.
Talking to The Dodo, May said, "As Sadie approached the casket you could both feel and hear the emotion in the room from the guests. Not a dry eye in the room. It was an emotional and hair-raising moment."
It was a special moment for Sadie. It was what she needed to heal and deal with the loss. When they went back home, she started to eat again. In fact, she ate two full meals.
May had pointed out that a lot of funeral homes don't allow pets inside the premises but he said that they are as important as a spouse and a child. He felt that it was important that Sadie was allowed to say her goodbyes.
He wished that Sadie's story will also inspire other funeral homes to change the rules and let other families' pets mourn when they lose their owners.
Please fill in your e-mail so we can share with you our top stories!