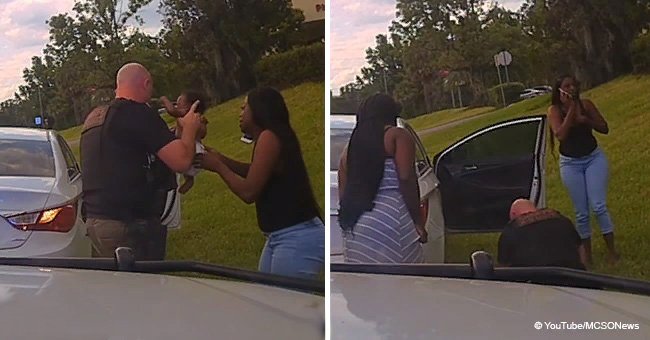 Dash camera footage shows police officer saving a baby's life
An off-duty deputy knew he had to help out when he saw a woman terrified after her son suddenly stopped breathing.
The dashcam footage was uploaded to YouTube by Marion County Sheriff's Office showing K9 Deputy Jeremie Nix's heroic attempts to save the baby
A white sedan pulled over near an intersection on Southeast Kale Weir Avenue and 17th Street in Ocala, Florida, on May 9, 2018.
Deputy Nix was in his cruiser when he saw a distraught mother, Nechole Crowell, with her flasher lights on and flagging down the deputy. She then rushed out of the vehicle with her baby, Kingston. The three-month-old had become unresponsive inside the car.
The officer rushed out of his car, kneeled on the ground and began administering CPR and other life-saving measures.
He did not notice any improvement in Kingston's breathing. He rushed the baby to the nearby Ocala Regional Medical Center.
MCSO shared updates about the condition of the baby on their YouTube page. They said that the baby made a full recovery thanks to K9 Deputy Nix's quick actions.
The department said it was proud of its Officer and they 'can already see that he and Baby Kingston will have a deep connection that will last a lifetime!'
Photos taken inside the hospital, show the deputy smiling as he stands next to the toddler, who has his eyes wide open, in the hospital bed.
Crowell also expressed her gratitude on Facebook and shared details about the incredible moment when Deputy Nix saved her son's life.
She said that Deputy Nix's fast thinking helped her son. Though he was on his way, he said that he would not leave until he made sure her son was safe
She also revealed that Nix came back with his wife to see Kingston in the hospital. Thanking the officer, Crowell said that he was just one of the many good people out in the world and that the mother and son would always appreciate him.
Please fill in your e-mail so we can share with you our top stories!