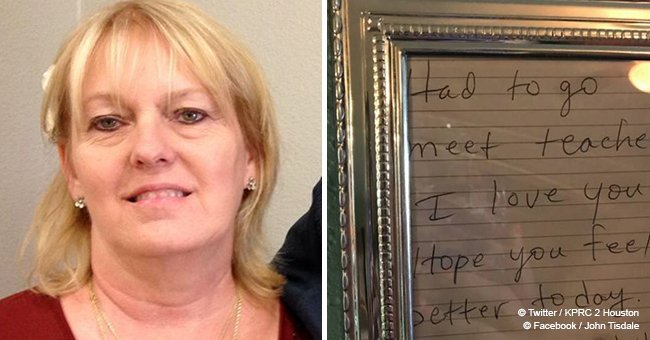 Teacher killed in Texas shooting, left a note 2 hours before death
The teacher killed in the violent school shooting was soon looking to retire and become a full-time granny.
63-year-old Cynthia Tisdale, one of 10 people killed in a shooting rampage at a Texas high school, left the last note for her family before she left for school.
Tisdale, who had been working as a teacher's aide in the arts complex of Santa Fe High School, died when 17-year-old Dimitrious Pagourtzis entered the department with a shotgun and .38 revolver and opened fire during the class.
According to NY Post, Tisdale's brother-in-law, John Tisdale, took to Facebook to post the teacher's sad last note for her family. It read, 'Had to go meet the teacher. I love you. Hope you feel better today. Love mom, Left you breakfast.'
John informed that she wrote the note before leaving for school on Friday, May 19. He also explained that Tisdale had planned on retiring and being a full-time granny or grandmother
In an interview with The Monitor, John stated how Tisdale had worked two jobs to cover the costs of her husband, William, who was diagnosed with lung cancer.
Besides being a substitute teacher at Santa Fe High School, she also worked as a server at a local Italian restaurant chain. Since William was extremely ill, she had proved to be a brilliant caregiver.
The couple had further planned to move to the Rio Grande Valley following Tisdale's eventual retirement, John sadly recalled.
Tisdale's eldest son, Recie, who is also a League City police detective, was one of the people to respond to the shooting scene shortly after it had been neutralized.
He told WFAA that he knew initially that two female teachers had been killed, along with several students, and later determined that one of them was his mother.
Please fill in your e-mail so we can share with you our top stories!