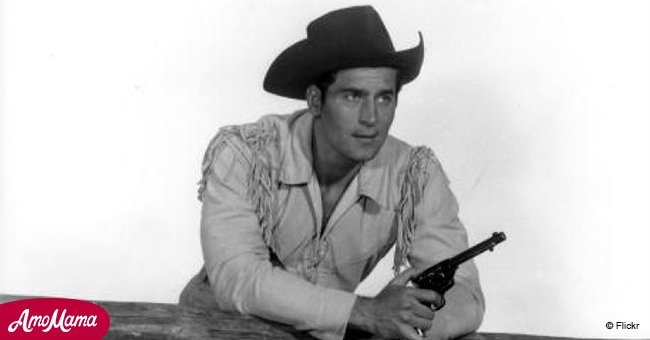 TV Western Legend Dead At 90
It's been reported that the actor, Clint Walker, died recently. He was surrounded by his family at his time of death.
His daughter, Valerie, shared that her father had a heart condition. TMZ reported that his death occurred on May 21, 2018.
Valerie shared that her father died from congestive heart failure. Clint Walker was best known for playing a TV cowboy on the hit western series Cheyenne
He passed away on Monday in the company of his wife, Susan Cavallari, and daughter according to a source close to the family. Walker was 90-years-old.
The actor gained recognition in Hollywood after landing a role in the classic film The Ten Commandments. His good looks and height of 6'6" saw him being cast as the roaming cowboy hero, Cheyenne Bodie
Cheyenne aired for 7 seasons after launching in 1955. After the show ended, Walker starred in the only movie ever directed by Frank Sinatra in 1965.
The film was called None But the Brave and Walker was cast in the lead as a Marine captain. His next role was next in a bear-vs.-man adventure Western called Night of the Grizzly.
He also starred in a movie called Maya where Walker played a hunter in India whose son fled into the jungle after a quarrel with him. In the film, Walker had to look far and wide for the teenager.
In 1967, the actor appeared in the classic The Dirty Dozen. He played one of the 12 miscreants rescued/recruited from military prisons for a particularly hazardous mission.
Two years later he acted in More Dead Than Alive. He followed that film with a comedy Western named The Great Train Robbery.
The star then began a transition to TV movies thereafter, aside from a 1972 feature called Villa and a 1971 ABC Western movie called Yuma. In 1974, he appeared on a TV series called Kolchak.
Walker starred in two TV movies called Killdozer and Snowbeast. He had other credits after those films' including the one with Kim Cattrall in the 1977's called Deadly Harvest.
The actor reprised the role of Bodie in an episode of Kung Fu: The Legend Continues in 1995. He then retired in 1988 after voicing Nick Nitro for the movie Small Soldiers.
The star was married three times. He is survived by his third wife, their daughter, Valerie, and his first wife, Verna Garver.
Please fill in your e-mail so we can share with you our top stories!