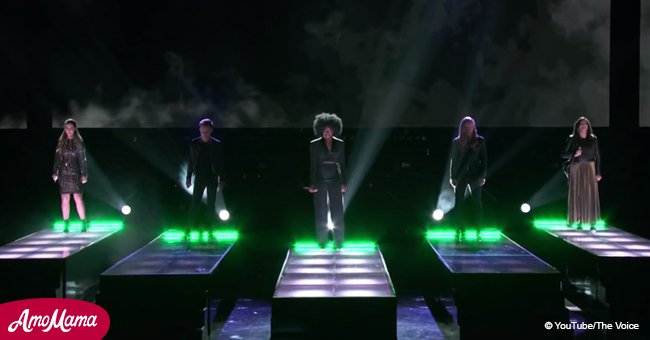 'The Voice' fans slam finale's opening due to 'poor performance' of iconic song
The Voice fans waited in anticipation for the winner to be crowned but were left disappointed by the opening act when contestants took to stage for a group performance.
The spectacular stage set-up featured raised sections where Britton Buchanan, Christiana Danielle, Jackie Foster, Wilkes and Mie Boostrom made their grand appearances.
The chosen song for the evening was Phil Collins' In The Air Tonight, and even though the contestants put their talent to good use, viewers of the reality series shared their displeasure online.
As reported by Pop Culture, the season 14 finale special spanned two days with the second half airing on Tuesday on NBC.
A Twitter user known only as Amy Babydoll said Phil Collins 'should be left alone.' Even though she didn't like the opening act, she still felt that 'they are all amazing singers.'
Another user, Trader J, said the group should 'never have attempted' the iconic song. He added that the group's timing was a disaster and that they were 'not coming in at the right time.'
Amber Lee couldn't fathom how showrunners would allow such a catastrophe and said 'some pretty horrific singing happening right now on The Voice.'
A user known only as Richard concurred and added that the song loses its 'emotional impact' when performed by a group of singers.
Michelle DiGirolamo simple tweeted 'yikes,' while Kate said the performers butchered the song and Stephen Sprague said they 'ruined one of the best songs ever.'
The finalists still managed to steal the show with their solo acts. Cartelli from Team Kelly Clarkson performed Crowded House's Don't' Dream It's Over.
Baker, from Team Blake, sang Tanya Tucker's Tell Me About It. Buchanan, backed by Team Alicia Keys, brought a tear to many an eye when he performed Avicii's Wake Me Up.
Blake Shelton's second star, Jade, gave an emotional performance of Joe Cocker's With A Little Help from my Friends.
Please fill in your e-mail so we can share with you our top stories!