Meghan's sheer dress from first-ever public outing as Duchess is affordable to buy
The Duchess of Sussex, Meghan Markle, has been very non-traditional with her approach towards being royalty. Her sheer dress is no exception.
After Markle married Prince Harry on May 19, she made her first public appearance as a royal member of the monarchical family in a plain white dress.
Markle was seen attending an event hosted to honor Prince Charles' 70th birthday on Tuesday. She donned a spring outfit designed by the British brand, Goat, for the garden party. 
Her dress was all-white and included a sheer pattern on her shoulders. Markle wore a chic hat and completed her look with a matching clutch and heels.
Markle was captured on camera sharing a laugh with her stepmother-in-law, Camilla Parker Bowles, at the royal event.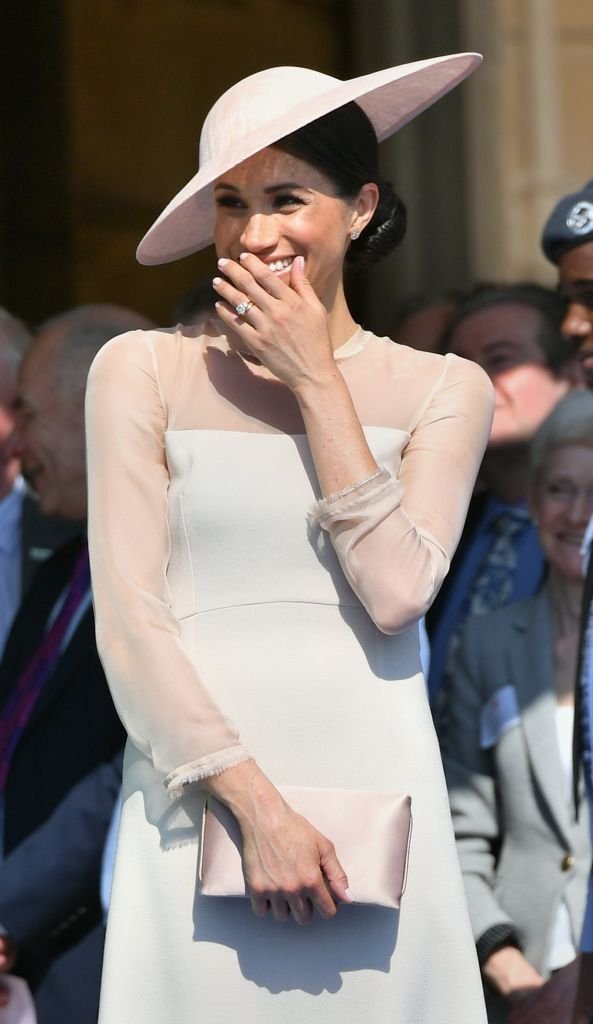 Usually, royal family members are not perceived to be thrifty when it comes to their outfits for occasions.
As reported by Harper's Bazaar, Queen Letizia wore a dress that cost over $8 million at her wedding with Prince Felipe of Spain in 2004.
However, the dress wore by the Duchess of Sussex at the garden party honoring Prince Charles did not cost as much as anyone would've imagined. The rose wool-creped dress with a paneled bodice and pencil skirt is on sale.
The dress was originally retailed at $643 but is currently priced at $491. The dress has a round neck and peach-beige silk-chiffon yoke and long sleeves. It has a concealed zip fastening at the center-back along with frayed-edge detailing.
While Prince Harry gave a speech on the occasion, Markle stood beside Camilla. The two were spotted talking through the speech and even chuckled from time to time.
Markle looked very comfortable in her very first outing as the Duchess of Sussex at the celebration of Charle's 70th birthday party.
Prince Charles was born on November 14, 1948. However, since the 70th year is a milestone for Charles, his birthday will be celebrated multiple times throughout the year, according to People.