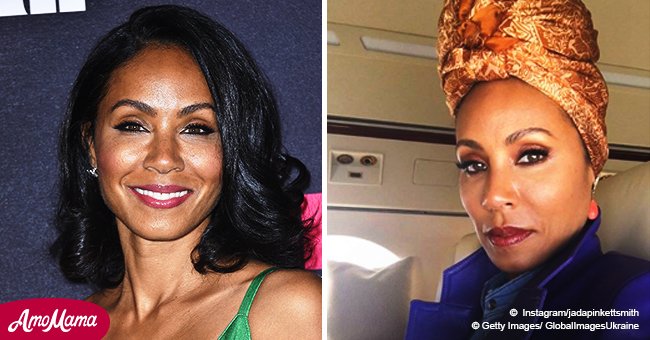 Will Smith's wife confides she's losing hair due to serious disease
On Monday, May 21 episode of her Facebook talk show, Red Table Talk, Jada Pinkett Smith opened up about her struggle with hair loss.
"I've been getting a lot of questions about why I've been wearing this turban. Well, I've been having issues with hair loss. And it was terrifying when it first started," said the US actress, as Page Six reported.
Hair loss can come as the result of thyroid disorders, anemia, polycystic ovary syndrome or the autoimmune disease alopecia, as some have speculated Pinkett Smith has. But for many women, hair loss is simply a part of the aging process and menopause.
However, till this day doctors have not identified a cause but Smith believes it may be stress-related, as she revealed in the third episode of her Facebook mini-series, co-hosted by her mother Adrienne Canfield Norris, and teenage daughter Willow Smith.
Smith admitted it has been really difficult for her to accept the fact that she is going to lose all her hair, especially since her long, thick strands had almost become part of her identity.
The actress remembered the shocking moment when she was in the shower and "handfuls of hair" fell into her hands. She added that she loved her thick beautiful hair. "Oh my God, am I going bald?" Smith evoked thinking.
Perspective helped Pinkett Smith cope with the emotional impact of her hair loss. Now, the actress said she enjoys using turbans, as they help conceal her condition and are an empowering fashion choice.
Pinkett Smith, who is also mother to young actor Jaden Smith and wife to actor Will Smith, has kept silent about her hair loss. 'I haven't talked about it, it's not easy to talk about, but I am going to talk about it,' the Girls Trip star said.
Alopecia is an autoimmune skin disease that affects at least 6.8 million people in the United States, according to the National Alopecia Areata Foundation. The condition can cause hair loss on the scalp, face or other areas of the body.
Please fill in your e-mail so we can share with you our top stories!