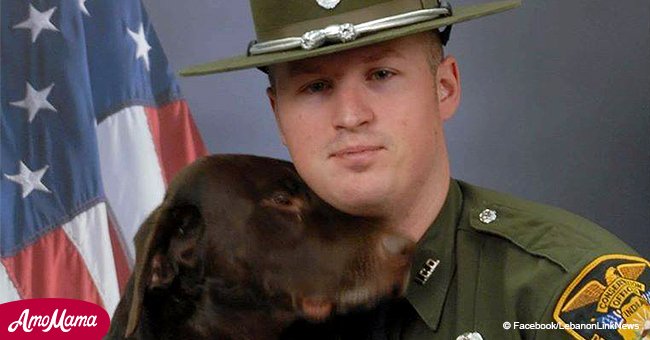 K9 officer 'kissed' his human partner in official portrait
Conservation Office Levi Knach and his partner, Kenobi, posed for an official portrait that went viral.
Today reported that the lab is serious and focused while on duty, but is in a playful mood off it.
Indiana Conservation Officer Levi Knach was kissed by his partner, rescue dog Kenobi, during their official photoshoot session.
The photo went viral when it was posted to the Indiana Department of Natural Resources Law Enforcement Facebook page and it left everyone surprised.
Perhaps the K-9 did not realize that the official portraits are a serious business.
Capt. William Browne, who initially put the photos online, said that the rest of the world too found the photos cute.
He said that it was an opportunity to let people excited about what the conservation officers and their K-9 partners do, such as protecting the natural resources, investigative wildlife poaching, and conducting search and rescue missions.
Just before the photos were posted online, the two had worked for 17 hours on a mission to find a missing child. Fortunately, the child was found and returned to his family.
Officer Knach first heard that he was making news from his brother and thought it was related to the most recent case.
He was surprised to learn from him that it had to do with "pictures of Kenobi licking" his face. The Officer believes that some police officers have been in the news for not so positive reasons, but this was a welcome change.
Kenobi's story is heart-touching as his early life was quite rough. He was not born or bred to work with law enforcement and was living with a family who had kept him chained up outside their home.
When Knach and another K-9 handler were looking for a rescue dog to train for their unit, they found him on Craiglist.
Though Kenobi had no prior training, he showed the curiosity and drive to suggest he could learn the job. He is now a well-trained rescue dog who is also loved.
Kenobi lives with Knach and his wife and the officer believes that it took a dog to break the negativity that floats around on social media.
Please fill in your e-mail so we can share with you our top stories!