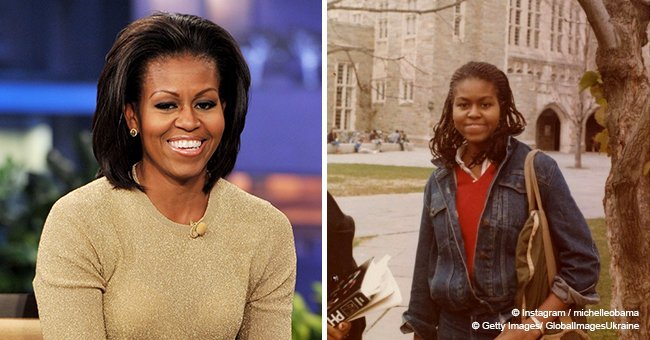 'It was scary for me': Michelle Obama comments on throwback photo from her youth
The former First Lady shared some throwback photographs of her along with inspiring messages.
Michelle Obama took to Instagram to share an old photograph from her time at Princeton University in the early 1980's.
In the social media post, she also opened up about the struggles she faced as the 'first-generation college student' and congratulated the class of 2018 for being brave and overcoming their own struggles.
The wife of Barack Obama further admitted, 'I know that being a first-generation college student can be scary, because it was scary for me.'
She further explained that she was an African American from a working-class neighborhood in Chicago, while Princeton's student body was 'generally white and well-to-do.'
She revealed that she never 'stood-out' as a student because of the color of her skin. However, she stated that she soon found close friends and a mentor who gave her the confidence in herself.
54-year-old Obama also admitted that going to college is a 'hard work.' But she stressed the fact that education does have the potential to change lives.
She further wrote in the caption, '...every day I meet people whose lives have been profoundly changed by education, just as mine was. My advice to students is to be brave and stay with it.'
Obama also used 'Reach Higher' hashtag in her caption, referencing back to a program she launched at the White House in 2014.
Only a day before posting this picture on Instagram, Obama also posted a snapshot of her parents, Marian and Fraser Robinson, to pay them a tribute.
She praised her parents and disclosed that it was her father who instilled in her the values of working hard and 'laughing often.' Similarly, she stated that her mother taught her to think for herself and 'use her voice.'
Please fill in your e-mail so we can share with you our top stories!