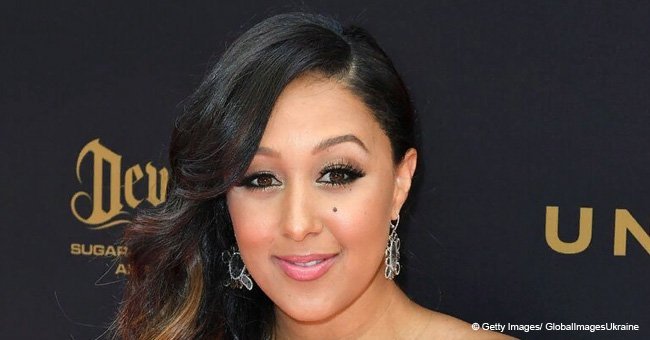 Tamera Mowry warms hearts with photo of her son cuddling his little sister
"The Real" co-host, Tamera Mowry recently melted hearts with a photo of her two adorable kids cuddling together, as she expressed how happy it makes her that they love each other so much. The former actress recently revealed that she's done having kids as her twin sister just welcomed a second baby into the world.
Celebritist was lurking around Tamera Mowry's Instagram account to see what the 'Sister, Sister' actress has been up these days and we stumbled with the sweetest photo she shared of her kids, Aden and Ariah, for Mother's Day.
She recently won an Emmy for her work in the daytime talk show 'The Real,' but Tamera keeps on being the same humble mother and wife that fans love because of her approachable vibe. She's constantly sharing beautiful photos of her family, and one of the most recent had fans swooning over the cuteness of her kids
Aden, 5 and Ariah, 2, are the product of Tamera's marriage to Fox Channel's correspondent, Adam Housley, and because their age difference is not that big, the kids have a strong bond, as proved in Tamera's recent photo.
The 39-years-old posted the picture of her little boy Aden hugging his sister with eyes closed as she smiled sweetly into the embrace. Tamera took the chance to write a heartfelt message for his kids and also to others moms, saying:
"The way these two love each other makes my heart melt. I'm so grateful to be your momma. You've enriched my life in so many ways. Man, how fast time flies. I will savor every moment. Happy Mother's Day to all the amazing mommas out there. We got this!!"
Tamera's twin sister, Tia, just gave birth to a baby girl a few days ago, and Tamera confessed in an interview with US Weekly, that she realized she's done having kids when she found out about her sister's pregnancy.
"Usually, this is the time when you think about having another child, but I'm done. Done, done, done, done … done, done. I love it. Usually I would be like, 'Aww, how sweet! OMG!' Now, I'm like, 'Oh, God, girl. It's all you. All you, honey. Do you need any help? You need any help? I'll help you out'."
She also mentioned that her sister hasn't asked for help, but is because she's a pretty determinate woman and the fact that her son Cree is seven-years-old plays in her favor. Tia has a little helper on her son, while Tamera had to deal with breastfeeding little Ariah and potty training Aden at the same time because of the short gap between their ages.
However, Mowry has done an incredible work raising her sons and that's clear by seeing her adorable photos and how at ease her kids look with each other and with their parents.
Don't you think Aden and Ariah are two adorable balls of sunshine?
Please fill in your e-mail so we can share with you our top stories!