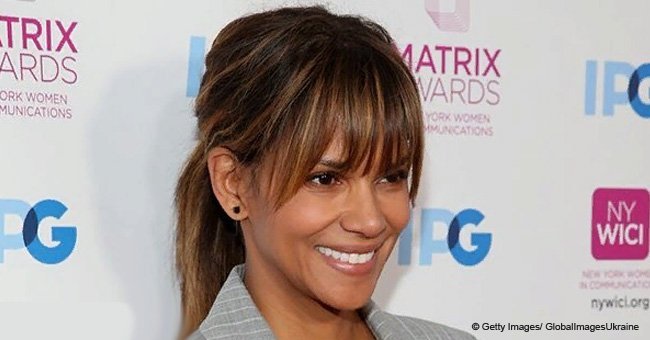 Halle Berry, 51, leaves little to the imagination in lacy top and see-through skirt in recent pic

Halle Berry looks timeless in a recent photo she shared on her Instagram account, where she left little to the imagination in an incredible lacy outfit that enhanced her curvaceous body. The actress recently announced her next project, and fans couldn't be more excited about it.
Celebritist gathered from Halle Berry's Instagram account a sensual photo the actress shared a few days ago that prove just how time doesn't seem to pass for the gorgeous star.
Halle, who started her career in Hollywood in the early '90s, was once one of the highest-paid actresses in the industry, and she's also considered one of the sexiest women in the world. Known for roles in movies such as "X-Men," "Monster's Ball," "Cloud Atlas," and "Catwoman,' Berry is now ready to take on a new role
The 51-years-old star will be joining Keanu Reeves, Lauren Fishbourne and Ruby Rose on the film 'John Wick 3,' which is set to be released on May 2019.
Halle's character is said to be named Sofia, and she recently confirmed the news by sharing two photos making reference to the film: first, a shot of a napkin with the message "See you in a year, Mr. Wick" scribbled on it, and second, a black and white shot showing off her attributes.
In the shot, snapped by star photographers The Riker Brothers, the actress is leaning against a wall as she puts on display her toned torso in a sheer bustier top and see-through skirt. Posing barefoot and staring seductively at the camera, Halle made a reference to her character as she wrote in her caption:
"I am Sofia #johnwick3"
Even though there are no details about Halle's character yet, some publications are speculating that she will not be a villain in the next movie of the franchise.
The mother of two is preparing for her role as she keeps on working out and keeping her incredible body in shape with her fitness routine. She has made it a tradition to post some videos and photos of her exercises every Friday, hoping to inspire more people to follow her steps to a healthier lifestyle.
We're glad to know that we'll be seeing Halle in the big screen pretty soon, and meanwhile, we'll keep an eye on her social media to see if she has more of those sensual photos coming up.
Are you excited for Halle's return to the big screen?
Please fill in your e-mail so we can share with you our top stories!