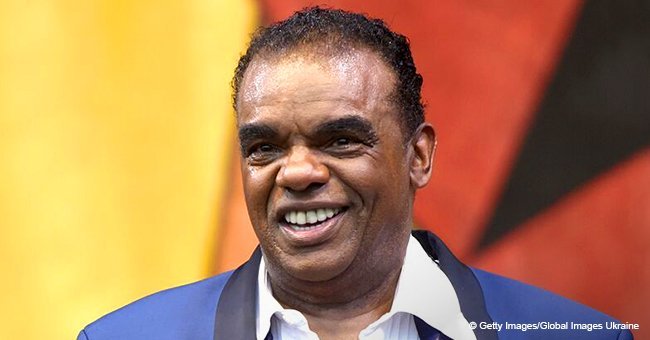 Ron Isley's young wife stuns in all-pink suit next to their son in recent pic
Kandy Isley is 35 years younger than her husband. And after they got married in 2005, she was given the gift of motherhood when she gave birth to their child Ronald Isley Jr. in 2007. Now, Ronald is all grown up as he posed alongside his mom for her mother's day post on social media.
When Ron married Kandy, who is 35 years his junior, people grew suspicious about the genuinity of their relationship. At the wedding cremony, Kandy wore a beautiful custom-made gown that cost a whopping $15000. Likewise, Ron gifted her with a $3 million dollar necklace, and at the ceremony slid a huge 14 carat diamond ring on her ring finger.
"I'm so blessed to have his heart! And this never gets old! #loveandmusic #tjmc #ronaldisley#kandyisley @nodiggety"
To top things off, their wedding happened at the ritzy Beverly Hills Hotel, where they were serenaded by George Duke, Philip Bailey, and Kid Kapri.
People started suspecting that Ron was actually her "sugar daddy", especially since of all people, Kandy, 28, chose to marry Ron, who was already 63.
However, Kandy sat down with Ronald recently to clarify why she chose to marry her husband.
"He's a GENTLEMEN! I mean, you're talking about romance, he puts the 'R' in romance...from fine dining, to treating a woman like a man should, with respect. As we developed a relationship, we had a lot of things in common and Ronald...even though he's older, he's young at heart."
"#20years #singingwithhim#istartedwheniwas5 #jk #Godisgood#imblessed #wereblessed"
Ron decided to chime in as to what attracted him to Kandy, saying she was what kept him going.
"She does these amazing things for me, you know. She answers a lot of questions that I need to have answers for you know and she keeps me going."
Now, the Isley family looks happy enjoying the life they live, with Kandy being a hands on mom to their 10 year old son Ronald Isley Jr., whom she claims changed her life for good.
"My life changed when I became a mom! What a blessing to bring a life into the world who looks and acts like you! My parents right behind me literally and figuratively! I'm blessed! #family#mothersday"
Please fill in your e-mail so we can share with you our top stories!