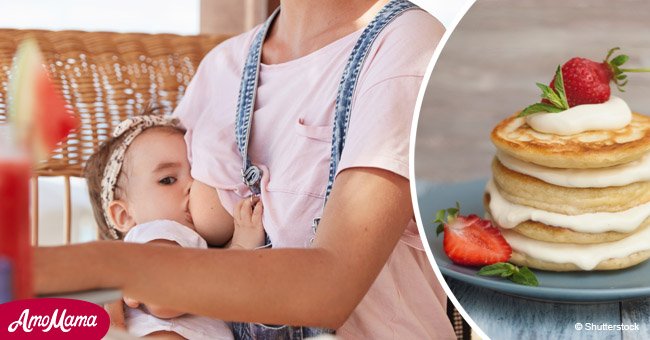 Woman praised by waitress for breastfeeding in public
Isabelle Ames received a note from Erica Chambers after she breastfed her daughter in the restaurant.
In 2017, Ames was with her daughter, Charlotte, in a restaurant in Gilbert, Arizona, when the little girl had an unexpected urge to feed.
Chambers, who works in the eatery that allows each server to give three free pancakes a day to deserving customers, saw Ames breastfeeding her daughter.
On that particular day, the waitress thought that this mother should get one.
When Chambers served their pancakes, Ames noticed a note that came with it. She couldn't hold back her tears after reading it.
'Thank you for breastfeeding here. Much love and respect. Erica,' the note reads.
"I started crying and gave her a big hug," Ames told Fox 10. "She just told me we have to support each other and have each other's backs."
Chambers didn't realize that her simple act of kindness would generate viral attention.
"I didn't expect any of this, I just wanted to pat another mom on the back," she told Fox 10.
Chambers was once asked to step out of establishments before for breastfeeding, so she knew very well the negativity surrounding it. The server just wanted to encourage Ames at the time.
"Being a breastfeeding mom, I know how demanding that can be and how important that can be," she said. "I just have a soft spot for breastfeeding moms."
Ames and Chambers both knew it's hard to breastfeed in public sometimes.
"I think it was so important to share, because I've been so worried throughout my breastfeeding experience that someone would have a negative reaction and come up to me," Ames said. "So to have a positive reaction and have that face-to-face was really cool."
The two were aiming to inspire other mothers to breastfeed their babies in public when they see fit.
Please fill in your e-mail so we can share with you our top stories!