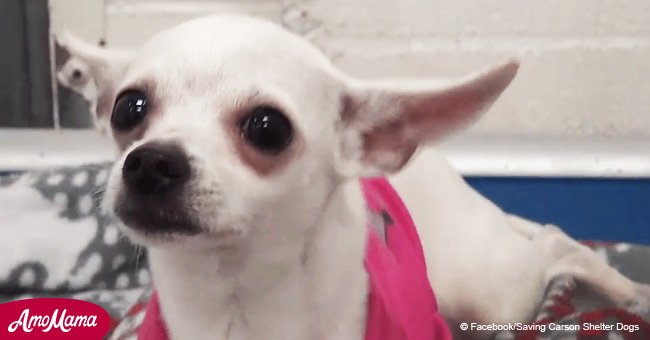 Whimpering Chihuahua was finally adopted from shelter
An abandoned dog cries itself to sleep in a high-kill shelter before being adopted by a loving family
Even people who have visited prisons and confronted human misery in every form are shocked by what they witness in animal shelters, where abandoned pets sit in bewildered and uncomprehending misery.
The Carson Animal Shelter in Gardena, California, recently received as an inmate a 1-year-old unnamed Chihuahua who had been left at the facility by her owner who just didn't want her anymore.
The woman handed over the dog clad in a sweet pink sweater, and a bag full of dog-toys and walked away without even telling them the dog's name.
Shelters are last ditch resorts for animals who are unwanted, unloved and abandoned. These are described by WeLoveAnimals.me as places of heartbreak filled with the constant weeping and whining of animals in pain and despair.
"I am described as a female, white Chihuahua – Smooth Coated. The shelter thinks I am about 1 year old.I have been at the shelter since Jan 20, 2017. I don't have much time left. The shelter is full."
In an attempt to find the chihuahua a home, the shelter created a Petharbor listing for this pup describing it as a white female chihuahua and hinting that the animal would be put down due to lack of space and resources.
A shelter employee who remained anonymous shared that the chihuahua cried every night before falling asleep, whimpering softly to herself.
This animal's distress touched the hearts of the people who heard of her situation on Facebook and on Twitter, and the word spread that a sweet-natured pup needed rescuing.
Luckily for this fur-baby, a loving family stepped forward and offered to adopt her, and she is now out of the shelter and in her own forever home.
Please fill in your e-mail so we can share with you our top stories!