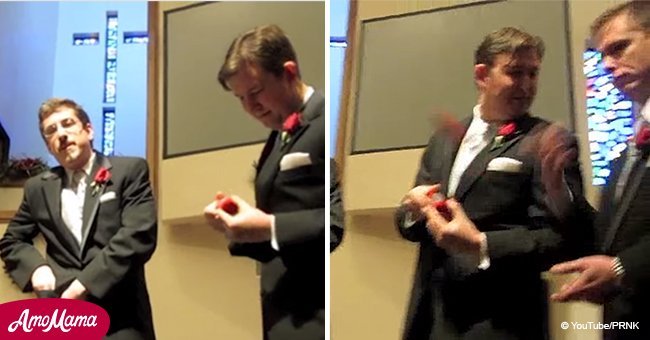 Film shows prankster groomsmen pretending they can't find wedding ring
Groomsmen decide to test the sense of humor of the soon-to-be couple as they feign losing the wedding ring.
Weddings are always a special moment, and with friends that truly get your sense of humor, it can turn into an even more special occasion filled with love and laughter.
In a video uploaded to YouTube, a group of groomsmen decides to test the sense of humor of the bridegroom as well as the bride as they play a little prank on the couple.
The prank begins when the pastor asks the bridegroom to put the ring on his bride's finger. Obviously, the bridegroom turns to his groomsman, who pulls out a small box from the inside of his suit.
He opens the box pretending to be looking for the ring but then throws the box away. This gets the bride and the bridegroom reeling with laughter.
The groomsman again pulls out yet another box, but the ring is missing from there too. He then looks at other groomsmen behind him, and each of them begins to search for the bridegroom's ring.
Each of them somehow produces a small box but they all turn out to be empty and they pretend to throw it away.
The bride cannot control her hysteria and bursts out into loud laughter at this while the bridegroom as well watches on with amazement as his groomsmen continue to feign that they have lost the ring.
Finally, one of the groomsmen turns to the pastor and asks him if he has got the ring. It seemed the pastor was in on the prank as well. The video reveals him then pulling out a special black box, which has the ring inside it.
However, the prank doesn't end there. The groom soon figures out that the ring inside the box given by the pastor is actually the bride's ring made for him rather than the other way around.
It is then that the first groomsman finally produces the actual ring that was made for the bride.
Please fill in your e-mail so we can share with you our top stories!