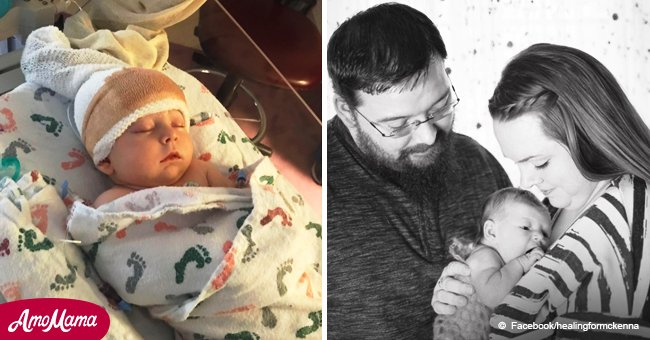 Baby hit in the head by a softball is showing signs of recovery
The little baby girl is making slow but steady progress in her recovery after being hit in the head by a softball.
According to the family's Facebook page, Baby McKenna received an impact directly on her head while she was attending a softball game along with her mother to see her daddy playing.
She was rushed to a local hospital and later transferred to the Mayo Clinic in Rochester, Minnesota, where doctors said that her recovery would be day-to-day. McKenna has been there as a patient since May 2.
The little angel has been fighting for her life since the tragedy. The accident left the seven-week-old baby with a skull fracture, brain bleeds, and seizures. She was heavily sedated for a long time.
Scans have indicated a possibility of significant damage in at least one area of her brain and doctors have warned that there might be some last effects on little baby McKenna. However, she is recovering very well despite the severity of her injuries.
The now two-month-old baby is slowly being taken off various medications that keep her from seizing and is beginning to breathe on her own without the use of a ventilator, according to her mother, Kassy Hovenga.
Doctors at the Mayo Clinic have noticed some darting eye movement when she looks to the right, which could be a result of the injury or a side effect of the anti-seizure medication she is on.
The little baby's parents, Lee Hovenga and Kassy have constantly expressed how thankful they are for the generosity that has come their way from strangers all across the country since McKenna's hospitalization.
They have set up a YouCaring donation page to help with McKenna's medical care. Supporters on the page have already raised more than 70,000 and now, cards, toys, and blankets from well-wishers all over the world filled her hospital room.
The donations will only go to the medical expenses present and future of McKenna. No matter how small they are, it will help the family now that they are going through one of their most difficult times.
Please fill in your e-mail so we can share with you our top stories!