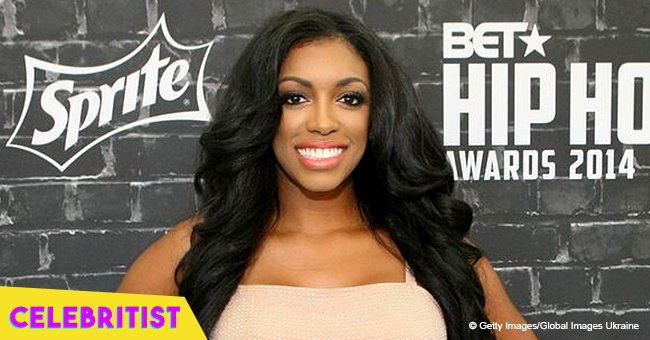 Porsha Williams' sister flaunts tiny waist in boho-chic swimsuit in recent vacation pic
Porsha Williams and her sister Lauren Williams have been spending quality time with each other in Jamaica. Since starting their vacation, Porsha has been keeping her fans posted about the activities the duo have been doing, even gushing about her sister in one of the photos she posted.
Fans were both touched and weirded out when they saw the appreciation post Porsha posted for her sister Lauren. While appreciation posts are entirely normal, some found it weird that she posted a solo bikini photo of her grown sister just to say she was pretty.
Donning a chic boho-type bikini, Lauren could be seen posing for a photo laying on a beach chair. Her gorgeous blue bikini featured long-sleeves, and white and black sun prints. With her hand grabbing her hair, she looked to the side and smiled.
"My sister so purrrrdy @lodwill#JamaicaVibe Bikini: @bfyne"
Fans flocked to the comment section to gush about how great Porsha's sister looked in her bikini, sharing kind words like:
"Great color to complement beautiful skin tone"
"Your bathing suit line is all that and some. I must check it out!!! "
"They are both naturally beautiful!"
Porsha has been sharing numerous snapshots of her trip to Jamaica, including videos of sceneries that she and her sister shared.
Just recently, she shared a video of a large pool covered in foam, with people partying in it. She updated her fans with her current location by writing a simple caption: "Aye #PorshaTakesJamaica".
Porsha enjoyed the getaway weekend with her sister Lauren, who just recently gave birth. Lauren has evidently lost all her pregnancy weight, which their fans have noticed based on the photos posted by her supportive sister.
"She lost all that baby weight she looks so beautiful."
The two sisters have been having the time of their lives, enjoying dips in pools and extravagant parties in the island and in yachts. Dancing to different EDM hits, the sisters definitely flaunted not only their gorgeous physiques but their hit dance moves which people can easily view on their Instagram pages.
Porsha and Lauren made the most out of their time in paradise, making sure the made every moment count. Partying with different people and letting loose for the weekend, the sisters evidently bonded with one another and made sure to compliment each other with the way they looked.
Leaving all their problems and issues behind, Portia and Lauren both enjoyed their quick getaway in Jamaica. Before heading back to reality, they made sure to make the most out of their time together, and away from the hussle and bustle of their very busy lives.
Please fill in your e-mail so we can share with you our top stories!