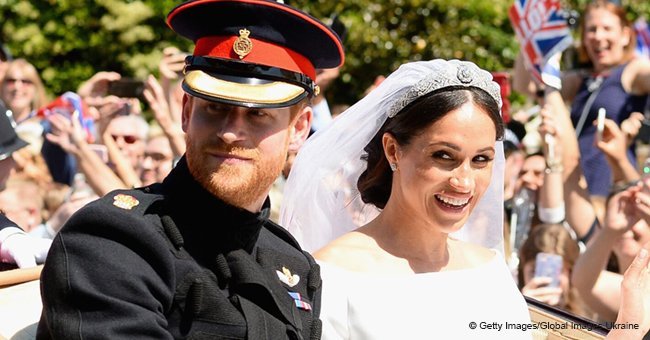 Meghan Markle's friend reveals why guests laughed during Royal wedding ceremony
When the couple said their "I do's" there were audible giggles throughout the audience. Now a close friend of the bride has explained why.
Prince Harry and Meghan, Duchess of Sussex, tied the knot to great fanfare on May 19 in St George's Chapel at Windsor Castle. The wedding was watched by millions on television, and by a 1,200 person audience outside the church.
When Meghan and Harry said their vows to one another, those watching on television noticed that something curious seemed to be happening: people in the chapel appeared to be quietly giggling to themselves.
Now, Janina Gavankar, a close friend of Meghan's, has explained what was so funny to Town & Country.
Gavankar was one of the few friends lucky enough to be seated inside the quire where the couple stood at the altar.
But even so deep inside the church, Gavankar says the wedding guests could still hear the cheering of the watching audience outside in Windsor.
Many of the 1,200 guests watching from outside the chapel were select members of the public who are considered to be outstanding citizens in their community, and were specifically invited to watch from outside.
The outside crowd was noticeably less subdued than those inside St George's Chapel, and were whooping and cheering all afternoon as the guests arrived, and as the wedding party and bride first came into view
It was for this reason that those inside the chapel were amused during the precious moment when Harry and Meghan exchanged their vows.
"Harry, will you take Meghan to be your wife? Will you love her, comfort her, honour and protect her, and, forsaking all others, be faithful to her as long as you both shall live?" asked Justin Welby, the Archbishop of Canterbury.
Harry responded in the affirmative, saying "I will." A soft giggle could be heard throughout the guests. This happened again when Meghan repeated the same affirmation.
"One thing that made many of us giggle was that we could hear the wonderful people outside. When the vows were happening, they would cheer, and we could hear them. It was a very quiet chapel. We all followed the Queen's lead," Gavankar said. "But we could hear everyone cheer and it was so heartwarming. Really, it filled our hearts."
Gavankar also revealed that even though there were 600 guests total in attendance, the wedding still felt very small and intimate to those seated in the quire.
Those up front were isolated from the rest of the church, and weren't witness to Meghan's long walk down the back end of the cathedral.
The actress was also among the lucky ones on the slimmed-down guestlist for Prince Charles' smaller reception for Meghan and Harry held later that evening at Frogmore House.
While she refused to share any major details of the evening, she did say that the guests danced until all hours, and that Prince Harry's speech for his new bride was incredibly moving.
"The speech that Harry gave was so funny, self deprecating, filled with love, and that guy just has her back. I left feeling so solid for them," she said. "I walked away feeling so confident that these two will put their combined power into the world for good."
Please fill in your e-mail so we can share with you our top stories!