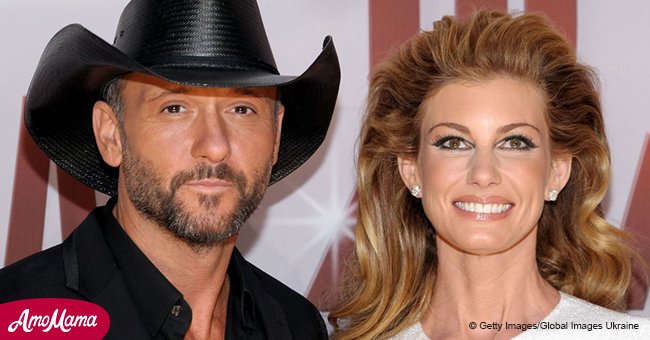 Tim McGraw and Faith Hill's middle daughter looks so much like mom (photos)
The couple have always tried to give their daughters the most normal life possible, and never shared photos of them growing up.
Tim McGraw and Faith Hill have three beautiful daughters together, Gracie, Maggie, and Audrey. As little ones, the country singers decided that they wanted to keep their girls out of the public eye.
As the older two have grown up and moved away to college, McGraw and Hill have started sharing photos of them to their Instagram accounts, though they are still cagey about Audrey who lives at home.
While there still aren't many photos of Gracie and Maggie out for the public to see, there are just enough for people to have noticed that Maggie is the spitting image of her mother!
When Hill was unable to attend the American Music Awards with her husband in 2016, Maggie accompanied McGraw to the event. The singer took to Instagram and shared a sweet pic of the father-daughter duo.
For Maggie's 18th birthday, McGraw shared another photo of his daughter in 2016.
Despite her youth, it is clear to see that she has the same smile and eyes as her mother.
Another image, shared this time by Hill for Maggie's 19th birthday in 2017, shows the couple with their middle daughter relaxing on a beach together.
Although it seems to be an old photo, Maggie's nose seems to have been copied and pasted from her mother's face.
Hill also shared another photo, on the day she traveled with Maggie to move to college, with a much more direct comparison between the two.
While the pair were pulling silly surprised faces in the shot, it's clear they share the same eyes and chins.
The pair had quite the journey to get Maggie to her college, with a cross-country roadtrip. Hill made sure to document the whole trip, and shared a number of the shots to her Instagram.
Another image that came from the trip was where Hill and Maggie stopped in Valentine, Texas for a break from the drive.
The pair are both looking at the camera, and it's clear that Maggie even has her mother's nose and teeth!
The lovely ladies seem to not only look alike, but if the photos are anything to go by then they also get along very well.
Please fill in your e-mail so we can share with you our top stories!