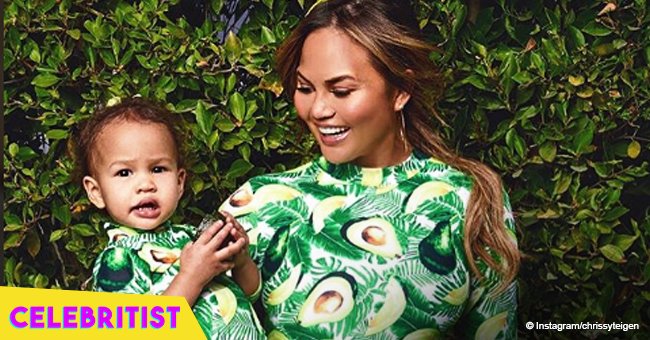 Chrissy Teigen shares the first photo of 'big sister' Luna and newborn son
The "Lip Sync Battle" co-host delighted fans when she shared this cute picture of Luna together with her younger brother Miles. Luna looks adorable with her curly dark hair while offering her little brother's pacifier to him.
Celebritist learned from "Instagram" that 32-year-old Chrissy Teigen's children are bonding well. After worries that Luna might not be that keen on becoming a big sister, the picture shows that the little girl is settling in quite nicely with her new status.
Proud 39-year-old father John Legend spoke to "People" on the red carpet at a "For Your Consideration" Emmy event. He stated that Luna was adjusting well to the newcomer.
"[Luna's] used to having us to herself. I think she's just starting to realize though that he might be competition. So in some ways it's good because she's stepping her game up. She's being more loving, she's singing louder, and dancing harder. She's making sure we don't stop paying attention to her."
Just over a week ago Chrissy took to Instagram to announce the birth of her son and revealed his names. The proud mother shared a pic of Miles and fans flooded the comment section with congratulatory messages.
"Hello, world! This is Miles Theodore Stephens - We are drowning in his little peeps and nuzzles. Our household feels overwhelmed with love. Thank you for all your well wishes!"
Chrissy later shared a pic of Luna dwarfed by a bouquet of roses and thanked Kim Kardashian for the huge gift. Luna stood by proudly and it's clear to see the parents are making every effort to not have her feel left out after the arrival of her baby brother.
The parents have been quite vocal about preparing their daughter for sisterhood. John took to Instagram and shared a pic of him reading "The Brother Book" to Luna.
With thoughtful parents like John and Chrissy, and an adorable brother like Miles, it's clear to see Luna will soon be blossoming as big sister.
Do you also think the pic of Luna and Miles is adorable?
Please fill in your e-mail so we can share with you our top stories!