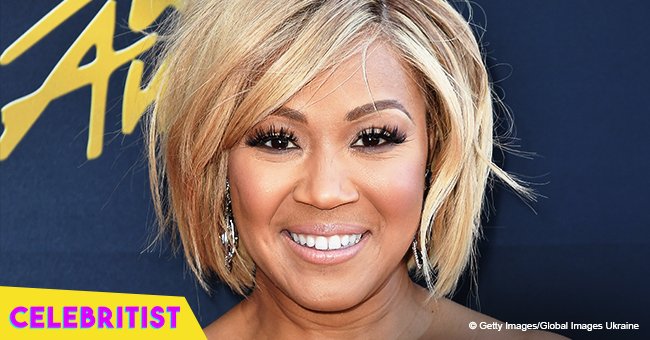 Erica Campbell and her 12-year-old daughter share the same smile in recent picture
Erica Campbell, better known for being half of the gospel duo 'Mary, Mary' alongside her sister Tina, recently shared a beautiful photo with her eldest daughter. Erica and her family recently landed a reality TV show that will follow their daily lives, and they're more than excited to share their endeavors with fans.
Celebritist was lurking around Erica Campbell's Instagram account and we stumbled with a beautiful photo she shared with the eldest of her kids, Krista Nicole, as they made their way downtown in their family car.
The mother-daughter duo's resemblance is uncanny, as they share the same facial features and cute smile. Krista, 13, is a young, smart and beautiful lady, and just like her famous mother, she's already showing off her music skills.
Last year, Krista won the 24th annual "Little Miss African American Scholarship Pageant," an educational program competition disguised as a pageant which is focused in talent and intellect instead of looks.
Her parents, Erica and Warren Campbell were there to cheer on the girl, as she earned the opportunity to disclose her talents at an LA Sparks game by singing her own version of "Climb Every Mountain," from the musical "Sound of Music."
Since her mother owns one of the most acclaimed voices in the gospel genre, is not a surprise that Krista inherited the talent for singing, and despite her age, she seems to be really confident about her talent.
Hopefully, the teenage girl will be showcasing more of her abilities on the reality show her family will be starring on next month. "We are The Campbells" will follow the whole family as they go on with their daily lives, and it will focus especially on Erica's journey while recording her new studio album.
The show will air on TV One and is currently being recorded between Los Angeles, where the family lives, and Dallas, where Erica tapes her daily radio show.
We can't wait to get to know more about Krista in the new reality show, and we're glad to know she has her parents support as she starts to develop her talent in the music scene.
What do you think about Krista's performing abilities?
Please fill in your e-mail so we can share with you our top stories!